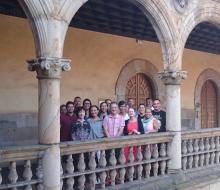 Coordinators: Maggie Walter (University of Tasmania), Desi Rodriguez-Lonebear (University of Arizona)
Programme:

190705_final_programme_v1_s.pdf
Description of the meeting
With the rise of big data and the digitization of information occurring at ever increasing rates, data is the global currency of knowledge. Differential brokering of this currency reveals a pervasive power imbalance and resultant data divide. In the case of Indigenous peoples, the data divide is concurrently local and global. It is predicated upon sophisticated systems of dominance that underlie colonial statecraft. Access to Indigenous appropriate and Indigenous relevant data are foundational to Indigenous nation rebuilding in the midst of colonisation.
Yet around the world, Indigenous peoples remain largely alienated from the collection, usage, and application of data about them, their lands and cultures. To reclaim power over their own affairs, Native nations must develop governance mechanisms that are informed by reliable, relevant data (Walling et al. 2009; Rainie et al., 2017; Walter 2016; Snipp 2016). At minimum, they require information about their citizens, territories, and resources just like any other nation state. With its underpinning principle of Native nations' right to self-determination, the United Nations Declaration of the Rights of Indigenous Peoples (UNDRIP) brings Indigenous data rights into sharp focus.
UNDRIP is non-binding International Law. Nonetheless, the adoption of UNDRIP by the United Nations General Assembly in 2007 represents a seminal moment for Indigenous peoples globally. The overarching aim of the Declaration is to guide nation states' relationships with Indigenous peoples around a rights based set of expectations. These expectations are set out over 44 Articles, each intended to inform the development domestic law and policy (Davis 2016).
Indigenous self-determination is reliant on data self-determination, which is also manifest in the Declaration. As Taylor (2016) argues UNDRIP raises urgent questions about the proper role of state machinery in gathering statistics on Indigenous peoples. The functional implementation of UNDRIP rights are themselves also reliant on data rights. UNDRIP promotes Indigenous development in accordance with Indigenous aspirations and needs. Indigenous nations not only have the right to control and determine what constitutes development, but also control the data needed to enact such development according to Indigenous data priorities, needs and interests.
Yet few official statistics agencies make any meaningful concession to Indigenous rights in relation to Indigenous data. Indigenous peoples across nation states remain peripheral to the channels of power through which consequential decisions about Indigenous statistics are made (Kukutai and Walter 2016). In many nation states an embedded trope of Indigenous data tends to the aggregate; fails to recognise Indigenous peoples cultural and geographic diversity; is focussed on deficit, especially in relation to socio-economic and health statistics; and is largely descriptive and decontextualized from the lives and histories of Indigenous people as Indigenous people. These data not only portray Indigenous peoples pejoratively, they also fail to meet Indigenous data needs.
As Pool (2016) argues, Indigenous data practices in many countries are part of an Indigenous data continuum from colonisation onwards. The current state of Indigenous data is primarily one of nation state administration rather than the foundation of Indigenous peoples' development agendas (Taylor 2015). In response to the continued alienation of Indigenous peoples from their own data, a growing number of Indigenous communities are pursuing the development and use of their own data as well as seeking greater control over the data gathering of others. They have also begun advocating for largescale change in decision making processes around Indigenous data. For example, the OCAP movement by First Nations in Canada demanded (and achieved) sovereignty of their own data. Under OCAP (Ownership, Control, Access, Possession), First Nations have collective ownership of their own data; hold the right to control research and information management processes that impact them; have the right of access to data about themselves and to manage access to their collective information; and are the custodians of their own data.
The OCAP principles are grounded in ID-Sov, and have been increasingly adopted as a goal by Indigenous academics and policy practitioners in a growing number of countries. Active ID-Sov networks now exist in the United States, Canada, Aotearoa New Zealand, Australia, Mexico and Sweden. Within this, Indigenous Data Sovereignty can be defined as:
the right to determine the means of collection, access, analysis, interpretation, management, dissemination and reuse of data pertaining to the Indigenous peoples from whom it has been derived, or to whom it relates. (Snipp 2016; Kukutai & Taylor 2016).
As discussed, ID-Sov is a right that Indigenous communities are increasingly pursuing. The operationalization of this right requires effective Indigenous Data Governance (ID-Gov) mechanisms. In recent years, ID-Sov activities have expanded from raising awareness within Indigenous nations and national statistical agencies towards the development of ID-Gov principles and protocols.
A key debate in the ID-Gov arena is the legal boundaries of collective and individual rights in relation to Indigenous data. Such debate intersects the complexity of international law, Indigenous intellectual property, and individual privacy. While the UNDRIP delineates broad rights of Indigenous collectives to Indigenous Data Sovereignty, there has been limited scholarship to date on the legal landscape for implementation globally and at the individual nation state level. The Workshop Series at the Onati International Institute of the Sociology of Law presents an opportunity to examine the legal mechanisms of ID-Sov and ID-Gov while sharing the latest scholarship and advocacy with the Basque Country and Basque scholars.
The theme of the workshop spans both ID-Sov and ID-Gov. Topics will include the national/international: progress toward principles for the governance of Indigenous data; legal mechanisms of ID-Gov; the legal boundaries of collective and individual rights in relation to Indigenous data; interactions with Indigenous nations and communities; negotiations with organizations that hold/control Indigenous data, such as national statistic offices and foundations; on-going efforts to influence the Indigenous data policies of global organizations such as the United Nations and scientific bodies; and how Indigenous networks are connecting strategically, domestically and internationally. The aim is to expand the ID-Sov and ID-Gov dialogue.
Our experience in Oñati
The International Law, United Nations Declaration of the Rights of Indigenous Peoples and Indigenous Data Sovereignty Workshop was held at the International Institute of the Sociology of Law, in Onati, Spain on 11-12 July 2019. Indigenous Data Sovereignty is an Indigenous led movement that advocates for the rights of Indigenous peoples relating to the collection, use, ownership and applications of data about them or their lifeworlds. Indigenous Data Sovereignty is underpinned by the social, political and economic rights outlined in the United Nations Declaration of the Rights of Indigenous Peoples (UNDRIP). Yet currently Indigenous peoples across colonised nation states remain peripheral to the channels of power through which decisions about Indigenous data are made. The imperative for Indigenous data leadership is heightened by the rapid rise of big data and the open data movement. Indigenous Data Sovereignty aims return the authority to Indigenous peoples over their data.
The workshop was attended by 18, primarily Indigenous scholars, from seven countries including Australia, Aotearoa New Zealand, the United States, Sweden, Columbia, Mexico and the Basque region. The purpose was to bring together representatives from the established Indigenous Data Sovereignty Networks in Australia, Aotearoa New Zealand and the United States as well as emerging networks in Mexico and Sweden to discuss how bring the rights inherent in UNDRIP to support the rights of Indigenous peoples in relation to data.. Workshop participants drew on collective experiences to progress the principles of Indigenous Data Sovereignty across nation states and examine how legal mechanisms can be deployed to enact and structurally embed Indigenous data governance mechanisms. A key outcome of the workshop emerged from discussions on how Indigenous data networks are connecting strategically, domestically and internationally. The Global Indigenous Data Alliance was formed at the workshop as a way of expanding Indigenous Data Sovereignty and data governance dialogue, internationally, via a sharing of resources and collective global activism.