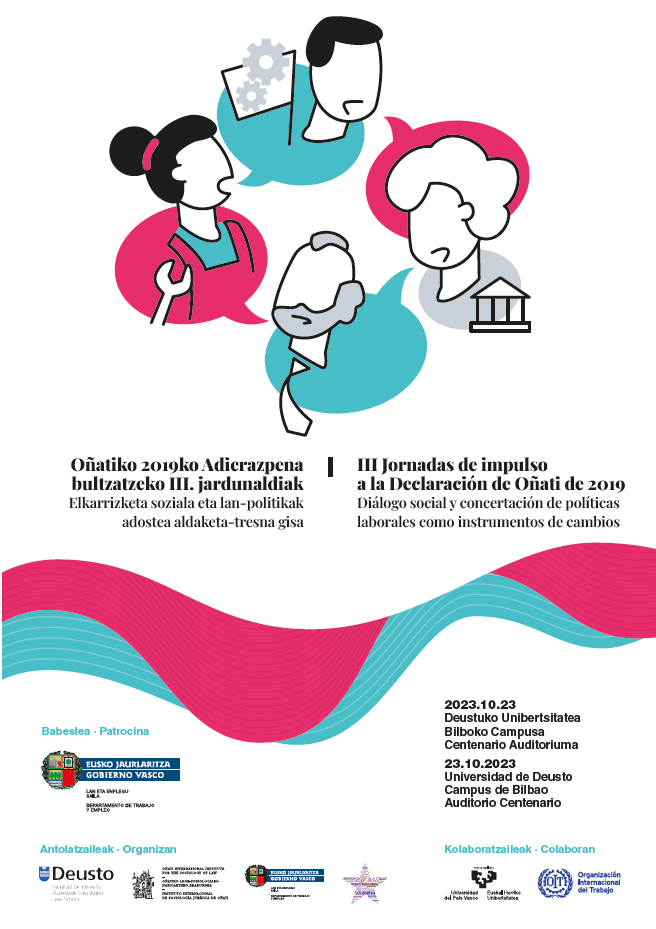 Coordinators: Elena Pérez Barredo (Viceconsejera de Trabajo y Seguridad Social de EJ/GV), Angel Lapuente (Director de Trabajo y Seguridad Social de EJ/GV), Mariola Serrano (Universidad de Deusto), Noé Cornago (UPV/EHU), Sabine Frerichs (IISJ/LSNE)

231025_egitaraua_programa_cas_def.pdf
Description of the meeting
Oñatiko 2019ko Adierazpena bultzatzeko III. jardunaldiak. Elkarrizketa soziala eta lan-politikak adostea aldaketa-tresna gisa.
III Jornadas de impulso a la Declaración de Oñati de 2019. Diálogo social y concertación de políticas laborales como instrumentos de cambios.
3rd Oñati Declaration Impulse Workshop. Social dialogue and labour policy concertation policies as instruments of change
Urriak 23 - 23 de octubre - 23rd October
Deustuko Unibertsitatea. Bilboko Campusa. Centenario Auditoriuma.
Universidad de Deusto. Campus de Bilbao. Auditorio Centenario.
University of Deusto. Campus of Bilbao. Centenario Auditorium
Aforo mugatua (galdetegia jaso ahala egingo da erreserba).
Aforo limitado (la reserva se hará por orden de recepción del formulario).
Limited capacity (reservations will be made in order of receipt of the registration form).
Izenemate orria - Formulario de inscripción - Registration form:
https://www.iisj.net/es/izen-emate-orria-formulario-de-inscripci%C3%B3noit3

Egitaraua - Programa - Programme:
https://www.iisj.net/es/programa-iii-jornadas-de-impulso-la-declaraci%C3%B3n-de-o%C3%B1ati-de-2019
Izena ematea doakoa da eta ekitaldia zuen ingurune instituzional, profesional, akademiko, sindikal eta abarretan zabaltzeko gonbitea luzatzen dizuegu.
La inscripción al encuentro es gratuita y les invitamos a que puedan difundir el evento en su entorno institucional, profesional, académico, sindical, etc...
Registration for the meeting is free of charge and we invite you to spread the word about the event in your institutional, professional or academic environment, your trade union, etc...
Formularioa bidaltzeko azken eguna: 2023ko urriaren 13a. Fecha límite de envío del formulario: 13 de octubre de 2023. Deadline to submit the registration form: 13th October 2023.