The Oñati Community will award a special prize of 500 € (MANOLO CALVO PRIZE) to one of the Master's Thesis defended and evaluated as of the 2021-2022 International Master's Programme in Sociology of Law.
Prof. Manuel (Manolo) Calvo García (1956-2020) was Full Professor of Philosophy of Law and Sociology of Law at the University of Zaragoza, and Scientific Director of the Oñati International Institute for the Sociology of Law (2002-2003). He was the author of a relevant and very innovative scientific body of work, in which he combined the attention to general aspects of Theory of Law and Sociology of Law with applied research. On his death, members of the Oñati Community (OC) generously donated to keep his scientific legacy and the OC decided to set up a Committee to organise a special award carrying his name through the IISL.
PRIZE CONDITIONS (ENG) - BASES DEL PREMIO (ESP)
Master 2021-2022
We are very pleased to announce that the 2022 MANOLO CALVO PRIZE has been awarded to Itziar Altuzarra, for her Master's thesis defended and evaluated within the 2021-2022 Master's Programme under the title "Problematising Sexual consent in Spanish rape law: Gender Norms and the manifestation of Sexual will".
Master 2022-2023 - 2023 MANOLO CALVO PRIZE
No Master's Thesis yet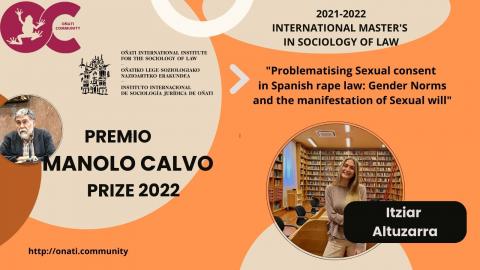 For more information:
Susana Arrese Murguzur
Master coordination
Avenida de la Universidad, 8
Apartado 28
20560 Oñati (Gipuzkoa) - Spain
T: +34 943 78... Ver teléfono

E: s.arrese@iisj.es


@IISJOnati