Szilàgyi, István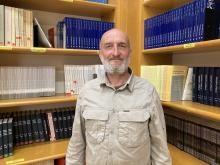 Pázmány Péter Catholic University
15 May 2023
to
05 Jun 2023
Biografía:
Professor (2019), Department of Legal Philosophy, Faculty of Law, Pázmány Péter Catholic University, Budapest.
Area(s) of expertise: legal sociology, anthropology of law, law & literature
Experience in Oñati:
I first visited the Institute as a visiting scholar nine years ago, when Professor Adam Czarnota was the Scientific Director. As then, my three weeks here were very useful and fruitful. Professor Sabine Frerichs was very cooperative and gave me the opportunity to present the results of empirical research on the relationship between Hungarian civic activity and legal consciousness at the Visiting Scholars' Colloqium. The subsequent discussion was really useful for me and gave me the opportunity to build professional relationships with some colleagues.
Moreover, the Institute's library is an excellent research facility, which supports basic research, but also the study of current topics in international sociology of law. The staff of the Institute and the library are very helpful, and the handling of personal matters is smooth and efficient.
Oñati is a lovely little town with everything a researcher focused on intellectual work needs. Its relaxed atmosphere and beautiful natural environment are particularly inspiring. Basque people are very kind and welcoming to foreigners.
If possible, I would like to return to the Institute as soon as possible (at least sooner than 9 years) to conduct research or otherwise participate in the scientific discourse that takes place here