Mancini, Letizia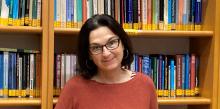 Università degli Studi di Milano
04 Feb 2023
to
10 Feb 2023
Biografía:
I'm Associate Professor of the Sociology of Law, Legal Anthropology and Law and Social Vulnerability. Legal Clinic on Children Rights at the School of Law, Milan University.
I was Professor of the Socio-Legal Master at the Onati Institute (years 2009\2010, 2010\2011, 2019\2020).
My principal field of research concerns the relationship between law, rights and pluralism.
Among my publications on these topics: Immigrazione musulmana e cultural giuridica. OSservazioni empiriche esso due comunità di egiziani (1998), La diversità culturale tra diritto e società (2018), L'accesso alla cittadinanza italiana. Una lettura critica (2021), Prevenire, contrastare e punire le pratiche di mutilazione genitale femminile. Un'analisi sociologica della legge n° 7\2006 (2018).
Area(s) of expertise: Sociology of law, Sociology of rights, Legal Anthropology