Lopez Espino, Jessica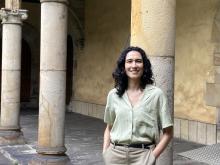 University of California Irvine
05 Jul 2023
to
29 Jul 2023
Biografía:
Jessica López-Espino is a legal and linguistic anthropologist who has conducted ethnographic research with Mexican and Central American parents in a California child welfare court and the attorneys, social workers, and judges working on processing their child custody and parental rights cases. The ethnography offers a rare view into the perspectives and narratives of Latinx parents participating in child welfare proceedings and the legal and linguistic practices that shape their ability to maintain or regain custody of their children.
This qualitative research was funded by the United States National Science Foundation. Jessica was a recent fellow in Law and Inequality at the American Bar Foundation and is currently completing a UC President's Postdoctoral fellowship at UC Irvine in the Department of Criminology, Law and Society.
Area(s) of expertise: Legal anthropology, linguistic anthropology, child welfare law in California, courthouse ethnography, discourse analysis
Experience in Oñati:
El personal de IISJ con su vasto conocimiento me ha ayudado en orientarme para comenzar un mes productivo. La biblioteca es un espacio inspirador para leer y escribir. Fue sumamente fácil concentrarme y pude aprovechar el tiempo y los recursos disponibles en la biblioteca en donde todo está cuidadosamente organizado. Cabe mencionar que la biblioteca tiene una colección impresionante, importante y multinacional de sociología jurídica.
La arquitectura del siglo XVI anima a escribir, pensar y a reflexionar. Oñati es una agradable región de montañas y caliza. Fue enriquecedor conectar con los estudiantes de maestría de IISJ y otros académicos visitantes en Euskal-Herria. Espero poder coincidir con la comunidad de Oñati al largo plazo.