Bregvadze, Lasha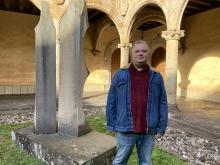 Javakhishvili Tbilisi State University
11 Nov 2022
to
20 Nov 2022
Biografía:
I do socio-legal research since 2003, as I became the student of the IISL. Currently I am a full professor at the Javakhishvili Tbilisi State University, law faculty and the director of the Institute of State and Law.
Area(s) of expertise: Legal Theory, Sociology of Law, Law and Development studies
Experience in Oñati:
My stay at the IISL was as always an unforgettable experience. International community of visiting scholars and master students inspired interesting discussions and thoughtful interactions. The possibility to present ongoing research project before the audience of visiting scholars from different academic cultures and the scientific director was very stimulating. The richest socio-legal library allows to collect unique materials related to interdisciplinary legal studies. New people, new books, new ideas but old friends of the IISL staff are the definite reasons why always to choose to come back to beautiful Oñati. Especially after the pandemic it was amazing to see how people from different traditions and cultures are gathered in an academic space and communicate in search of new societal borders and new legal forms; and all these happens in an inclusive global village called Oñati. Eskerrik asko!