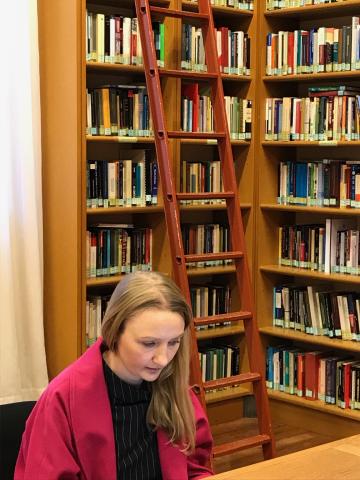 Ireland
03 Oct 2017
to
16 Dec 2017
I would like to thank the IISL for providing me with a Residence Grant to make my stay in Oñati possible. My experience at the IISL was excellent in every single respect. From my first contact with the institute's well-prepared and attentive staff, I received clear and thorough information about all the facilities offered at the Institute and the Residencia. The Institute was an inspirational and supportive hub to complete my doctoral research and write during my three-month stay.
My research preoccupation lies with the knowledge production of concepts and categories of international human rights law. In particular, my PhD dissertation focuses on the ways in which the concept and category of "indigenous peoples: has been made active and effective in the context of the Bedouin in Israel. Since I approach my research project from a socio-legal perspective and employ legal-anthropological methods, the IISL library's extensive collection of books and journals specialised in socio-legal and legal-anthropological studies was a very useful resource. While I consulted the library for books on my topic, I also enjoyed browsing the book shelves, which were full of useful material that I would not have access to otherwise.
My stay was a a really collegial and friendly environment to live and work surrounded by students participating in the International Master in Sociology of Law and researchers, who come from a variety of disciplinary backgrounds and are at different stages in their research and careers. Whether learning about my colleagues' work through presentations at the Institute or discussing methodological challenges and theoretical concepts over pintxos, I have appreciated the intellectually stimulating atmosphere. I also had the opportunity to present my research to the IISL research community as well as the local community in Oñati.
The town of Oñati, with its picturesque plaza and vibrant community, is a wonderful place to live while researching and writing. My stay invigorated me, allowing me to finish writing my thesis and providing me with further questions and ideas to explore in my future research. Thank you to Professor Vincenzo Ferrari and everybody working at the Institute and the Residencia, and to the visiting scholars, Master's students, and other Residence Grant recipients for making this such a formative and unforgettable experience.
I miss Oñati already, and I look forward to having the chance to visit the Institute again in the near future.
Para más información:
Workshop Coordination Team
Avenida de la Universidad, 8
Apartado 28
20560 Oñati (Gipuzkoa) - Spain
T: +34 943 78... Ver teléfono
E: workshop@iisj.es

@IISJOnati