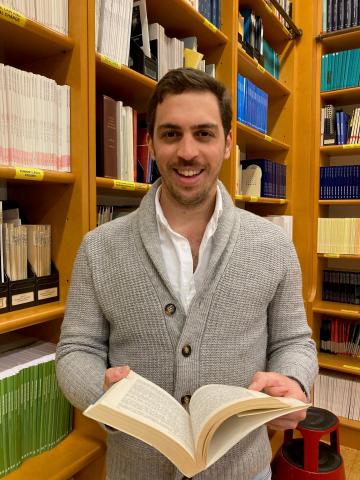 Universidad:
Investigador en el Consejo Nacional de Investigaciones Científicas y Técnicas (CONICET) - Profesor (Universidad de Buenos Aires)
Argentina
01 Feb 2022
to
28 Feb 2022
I had the honor of having carried out my research studies at the International Institute for the Sociology of Law (IISL), within the framework of my doctoral thesis at the National Scientific and Technical Research Council with work headquarters at the School of Law of the University of Buenos Aires.
My stay at the IISL was between February 01 and 28. It was a great pleasure to be able to establish academic and personal links that allowed the improvement of my research. In this sense, I am very grateful to the attention and kindness of all the people who work at the Institute. Always attentive and ready for any request and need both before my arrival and during my stay in Oñati.
The IISL meets all the necessary conditions to be able to carry out the investigative work in a serious and committed manner. It offers services that establish a favorable environment for the promotion of scientific cooperation, the transfer of knowledge and the development of the proposed studies. At the same time, it provides an impressive and profuse bibliographical repertoire in its library and documentation center. Located in the historic IISL building, the library allowed me access to materials related to my research topics (philosophy of law, legal sociology and literary theory). The documentation included updated legal collections from the various epistemological perspectives.
Within the framework of the residence grant recipient that was granted to me, I carried out my research stay at the Antia Residence, a historic building that is characterized by its incredible building structure, its comforts and its great location in Oñati. There I was able to meet professors, students of the International Master in Legal Sociology, beneficiaries of the residence grant recipient and visiting researchers. An incredible climate of hospitality and camaraderie reigns in the residence, ready to make daily coexistence an incredible experience. This space allowed me to establish interesting exchanges with colleagues from all over the world. With them I shared very interesting dialogues and debates, characterized by their thematic varieties. These meetings allowed me to establish not only new academic relationships but also personal bonds of friendship.
I have nothing but words of thanks to all those who made my stay such an enriching and unforgettable experience. It will be a great pleasure to be able to return to Oñati again and enjoy its cultural greatness as well as its beautiful landscapes. Thanks!
Gonzalo Ana Dobratinich (University of Buenos Aires, Argentina)
___________________________________
Tuve el honor de haber realizado mis estudios de investigación en el Instituto Internacional de Sociología Jurídica (IISJ), en el marco de mi tesis doctoral en el Consejo Nacional de Investigaciones Científicas y Técnicas con sede de trabajo en la Facultad de Derecho de la Universidad de Buenos Aires.
Mi estancia en el IISJ estuvo comprendida entre el 01 y el 28 de febrero. Fue un enorme placer poder establecer vínculos académicos y personales que permitieron el perfeccionamiento de mi investigación. En este sentido, mi reconocimiento a la atención y amabilidad de todas las personas que trabajan en el Instituto. Siempre atentas y dispuestas ante cualquier solicitud y necesidad tanto en el tiempo previo a mi llegada como también durante mi estadía en Oñati.
El IISJ reúne todas las condiciones necesarias para poder ejecutar de manera seria y comprometida las labores de investigación. Ofrece comodidades que establecen un ambiente propicio para la promoción de la cooperación científica, la transferencia de conocimientos y el desarrollo de los estudios propuestos. A su vez, brinda un impresionante y profuso repertorio bibliográfico en su biblioteca y centro de documentación. Ubicada en el histórico edificio del IISJ, la biblioteca me permitió el acceso a materiales vinculados a mis tópicos de investigación (filosofía del derecho, sociología jurídica, teoría literaria). La documentación incluyó colecciones jurídicas actualizadas desde las diversas perspectivas epistemológicas.
En el marco de la beca de residencia que me fue otorgada, realicé mi estancia de investigación en la Residencia Antia, un edificio histórico que se caracteriza por su increíble estructura edilicia, sus comodidades y su gran ubicación en Oñati. Allí pude conocer profesores/as, estudiantes del Máster Internacional en Sociología Jurídica, y beneficiarias/os de la beca de residencia e investigadoras/es visitantes. En la residencia reina un increíble clima de hospitalidad y de compañerismo, dispuesto a hacer de la convivencia diaria una experiencia increíble. Este espacio me permitió establecer interesantes intercambios con colegas provenientes de todo el mundo. Con ellas/os compartí diálogos y debates muy interesantes, caracterizados por sus variedades temáticas. Estos encuentros me permitieron establecer no solo nuevas relaciones académicas sino también vínculos personales de amistad.
No tengo más que palabras de agradecimiento a todas/os los que hicieron que mi estadía sea una experiencia tan enriquecedora e inolvidable. Será un enorme gusto poder volver a Oñati nuevamente y disfrutar de su grandeza cultural así como de sus hermosos paisajes. Gracias!
Gonzalo Ana Dobratinich (Universidad de Buenos Aires, Argentina)
Para más información:
Workshop Coordination Team
Avenida de la Universidad, 8
Apartado 28
20560 Oñati (Gipuzkoa) - Spain
T: +34 943 78... Ver teléfono
E: workshop@iisj.es

@IISJOnati