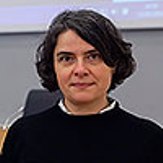 Human Rights Institute, University of Deusto (Spain)
Dolores Morondo Taramundi is the head of research at the Human Rights Institute of the University of Deusto (Bilbao) and a lecturer in promotion and protection of human rights. She is the director of the Erasmus Mundus Programme "Human Rights Policy and Practice".
She obtained a Law Degree with a Diploma in Economics at the University of Deusto. She is an alumna of the Master Programme in Oñati and holds a PhD in Law from the EUI with a thesis on feminist legal theory. She has worked as an independent expert for the European Commission in projects on human rights and institutional building. She is currently the Spanish representative in the European Network of Legal Experts on equality and non-discrimination law.
Her main research areas include human rights, equality and non-discrimination, legal critical theories, especially feminist legal theory, and legal methodology.