Oñati-IISL eNewsletter - eBoletín del IISJ-Oñati. Number 53, December 2017

Call for workshops 2019

Call for 2019 workshops - Total logistical and planning support!

We invite applications to hold workshops at its facilities in 2019. The Institute provides modern, full-equipped meeting rooms of various sizes, excellent accommodations in its Residence, arrangements at local restaurants at very reasonable prices, free bus service from/to the nearest airport and train station, total logistical and planning support. [+info]
For further information: malen@iisj.es
Deadline: 9 February 2018.

Propuestas de workshops 2019 - ¡Total ayuda logística y de organización!

Os invitamos a presentar propuestas para celebrar reuniones utilizando las instalaciones de Oñati durante el año 2019. El Instituto dispone de varias salas de reuniones modernas y bien equipadas de varios tamaños, excelente alojamiento en su Residencia, contactos con restaurantes locales a precios razonables, servicio de bus gratis desde, o al más próximo, aeropuerto o estación ferroviaria, total ayuda logística y de organización. [+info] Para más información, escribir a: malen@iisj.es
Fecha límite: 9 de febrero de 2018.

International Master's in the Sociology of Law

2018-2019 - 29th Master Programme. Few places available!

One-year programme (60 ECTS) taught entirely in English. Accredited by the UPV/EHU (University of the Basque Country).

Deadline for applications: 28 February 2018.

13 two- week courses + Master's Thesis Research Project

[Courses & teachers] [Leaflet] [Poster] [Application form]

Remember you can also attend single courses of the programme.

Further information: susana@iisj.es

This year's students visited the library of Deusto University.

Later that day, they attended a talk organized by EhuGune about Catalonia. Speakers were María Eugenia Rodríguez Palop, Zelai Nikolas, Pedro Ibarra and Joxerramon Bengoetxea.

Finally, they participated in the IV European Encounters in Bilbao: Refugees in Europe, organized by Globernance.
Vol 7, No 4 (2017): "Too Few Judges?" Regulating the Number of Judges in Society
September 2017 - Issue edited by Eyal Katvan (Center of Law & Business, Ramat-Gan, Israel), Ulrike Schultz (FernUniversität, Hagen, Germany), Avrom Sherr (Institute of Advanced Legal Studies, London, UK) and Boaz Shnoor (Center of Law & Business, Ramat-Gan, Israel).
Avrom Sherr: Introduction [+PDF]
Methodology, Data and Numbers: Too Few/Many/Much Judges
Marco Fabri: Methodological Issues in the Comparative Analysis of the Number of Judges, Administrative Personnel, and Court Performance Collected by the Commission for the Efficiency of Justice of the Council of Europe. [+PDF]
Matthew Kleiman, Cynthia G. Lee, Brian J. Ostrom, Richard Y. Schauffler: Case Weighting as a Common Yardstick: A Comparative Review of Current Uses and Future Directions. [+PDF]
Eli Wald: Judging Judges: A Study of U.S. Federal District Court Judges in the 10th Circuit. [+PDF]
Anne Wallace, Sharyn Roach Anleu, Kathy Mack: Judicial Work and AV Use: Perceptions from Australian Courts. [+PDF]
Shortage of Diversity – Gender, Ethnicity and Class
Avner Levin, Asher Alkoby: Shouldn't the Bench be a Mirror? The Diversity of the
Canadian Judiciary. [+PDF]
Livia Holden: Women Judges and Women's Rights in Pakistan. [+PDF]
Hugh Corder: Judicial Capacity in a Transforming Legal System. [+PDF]
Reasons and Consequences
Bruce Green: The Price of Judicial Economy in the US. [+PDF]
Limor Zer-Gutman: The Effects of the Shortage of Judges in Israel. [+PDF]
Boaz Shnoor, Eyal Katvan: Court's Precious Time: Transparency, Honor and Judicial Scarce Resources. [+PDF]
Managing and Solutions
Brian Opeskin: The Supply of Judicial Labour: Optimising a Scarce Resource in Australia. [+PDF]
Helena Whalen-Bridge: Court Backlogs: Balancing Efficiency and Justice in Singapore. [+PDF]
Vol 7, No 5 (2017): El Reto de la Profundización Democrática en Europa: Avances Institucionales en Democracia Directa
December 2017 - Issue edited by Víctor M. Cuesta (University of Las Palmas de Gran Canaria) and Miguel Presno (University of Oviedo).
Víctor Cuesta López, Miguel Presno Linera: Introducción [+PDF]
Víctor Cuesta López: El referéndum europeo: la decisiva intervención de los soberanos nacionales en el proceso de integración. [+PDF]
Daniel López Rubio: El control de constitucionalidad de la 'legislación popular'. [+PDF]
Jorge Urdánoz: Legislación electoral y posibilidades participativas. [+PDF]
Juan Ramón Rodríguez-Drincourt: Consideraciones sociojurídicas sobre participación ciudadana y 'democracia abierta': especial referencia a las nuevas perspectivas de profundización democrática en Canarias. [+PDF]
Enriqueta Expósito: La participación directa del ciudadano en el Parlamento. Una visión desde el ordenamiento constitucional español. [+PDF]
Miguel Ángel Gonzalo: Participación ciudadana y actividad parlamentaria. [+PDF]
Patricia García Majado: La configuración de la Iniciativa Legislativa Popular: resistencias y soluciones. [+PDF]
Reyes Pérez Alberdi: El modelo autonómico de democracia participativa: la situación a partir de la aprobación de los nuevos estatutos de autonomía. [+PDF]
Vicente Cabedo Mallol: Las dos generaciones de leyes autonómicas sobre la Iniciativa Legislativa Popular. El caso de la Comunitat Valenciana. [+PDF]
Neliana Rodean: La iniciativa ciudadana en el procedimiento legislativo italiano: de su ineficacia a las propuestas de reforma. [+PDF]
Francisco Soto Barrientos: Mecanismos de participación ciudadana en el proceso legislativo, los desafíos de su recepción en Chile. [+PDF]
---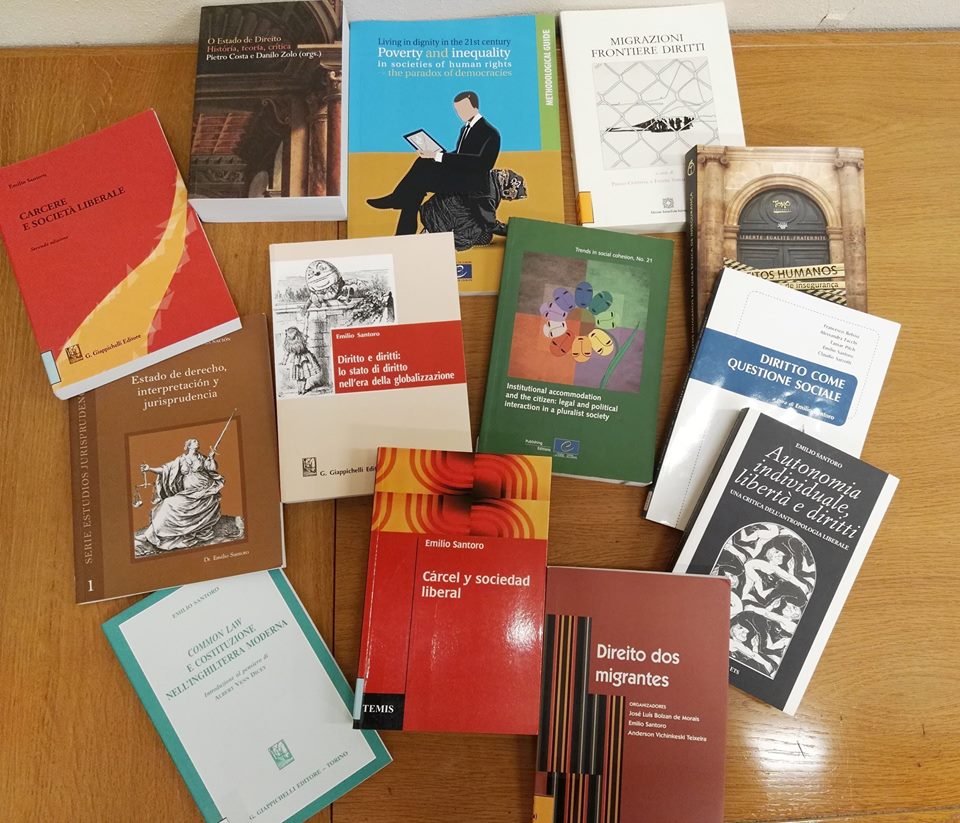 Thank you to all the donors who sent us their publications in October and November:
Anette Bringedal Houge, Emilio Santoro, Francisco Rafael Ostau de Lafont de León, Jiří Přibáň, Lawrence M. Friedman, Stefan Larsson, Fundación Iura Vasconiae (Iura Vasconiae Fundazioa).
---
[+Access the library catalogue] [+Visite el catálogo de la biblioteca]
New deadline for Lisbon - Se amplía el plazo para la conferencia de Lisboa
The RCSL-SDJ Lisbon Meeting 2018 "Law and Citizenship Beyond The States" will be held at ISCTE-IUL September 10-13 2018. The deadline for the submission of papers and session proposals has been extended to 15 January 2018.

Oñati Session in Lisbon – 10-13 September 2018
RCSL will organize its Annual Meeting in Lisbon, on the general theme "Law and Citizenship Beyond the States".
The meeting is co-sponsored by the Sociology of Law and Justice Section of the Portuguese Sociological Association, and is organized by Dinâmia'CET, a research unit of the University Institute of Lisbon (ISCTE-IUL), with the support of CES (Coimbra), CICS.NOVA (Braga, Lisbon), CIES (ISCTE-IUL, Lisbon), and CRIA (Lisbon, Braga).
Find out more on the RCSL website // Toda la información, en la web de la SDJ
Recent Visitors to the Institute / Han visitado el Instituto
You will find an unique atmosphere to research or write, with the best Library and Documentation Center [+] on Law and Society to make research.
Disfruta de un ambiente único para investigar o escribir, en la mejor Biblioteca y Centro de Documentación [+] sobre sociología jurídica para desarrollar tu investigación
Residence Grants / Becas de residencia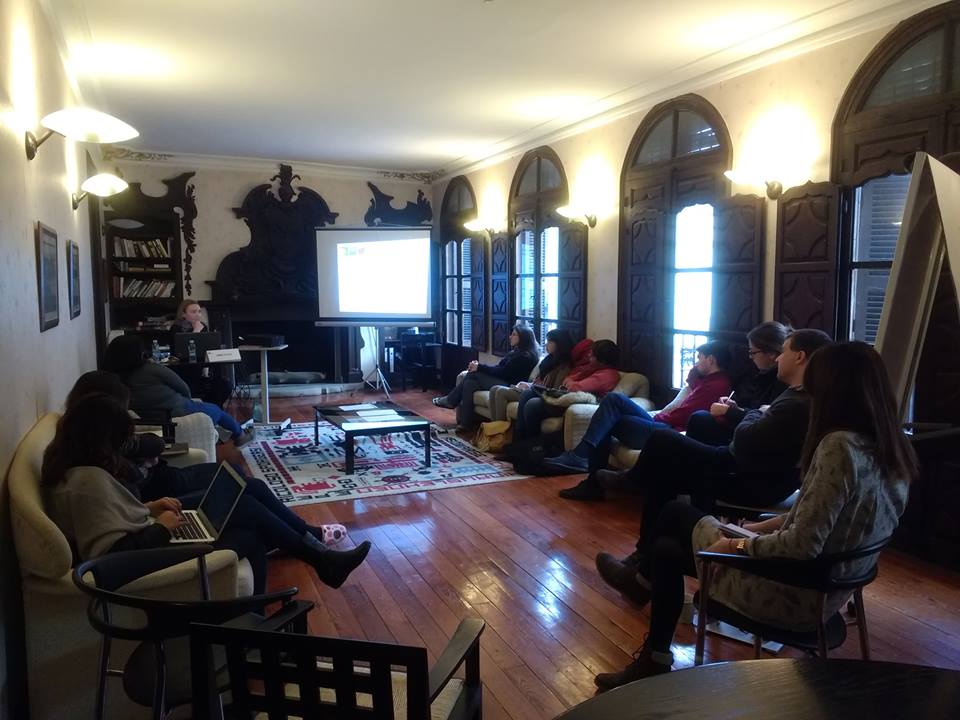 Emma Nyhan (European University Institute, Florencia, Italia): 03/10/2017 - 16/12/2017

Emma Nyhan eligió el IISJ para finalizar su investigación doctoral, Indigeneity, Law and Terrain: The Bedouin Citizens of Israel, tema que trató en una charla que ofreció en Oñati, al término de su estancia.
Visiting scholars / Investigadores visitantes