Pignocchi, Matteo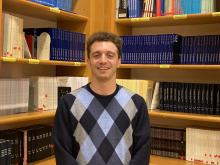 Università degli Studi di Macerata
14 Nov 2022
to
26 Nov 2022
Biografía:
Lawyer, Ph.D. student preparing a dissertation on basic income, law and economy, social rights and welfare legal systems.
Experience in Oñati:
I had my visiting experience in Onati in November 2022.
I must come back!
The library is full of interesting and classical books on the field of SL. Antia Residence and the small city of Onati are the best places to study and write on your issues.
Thank you!