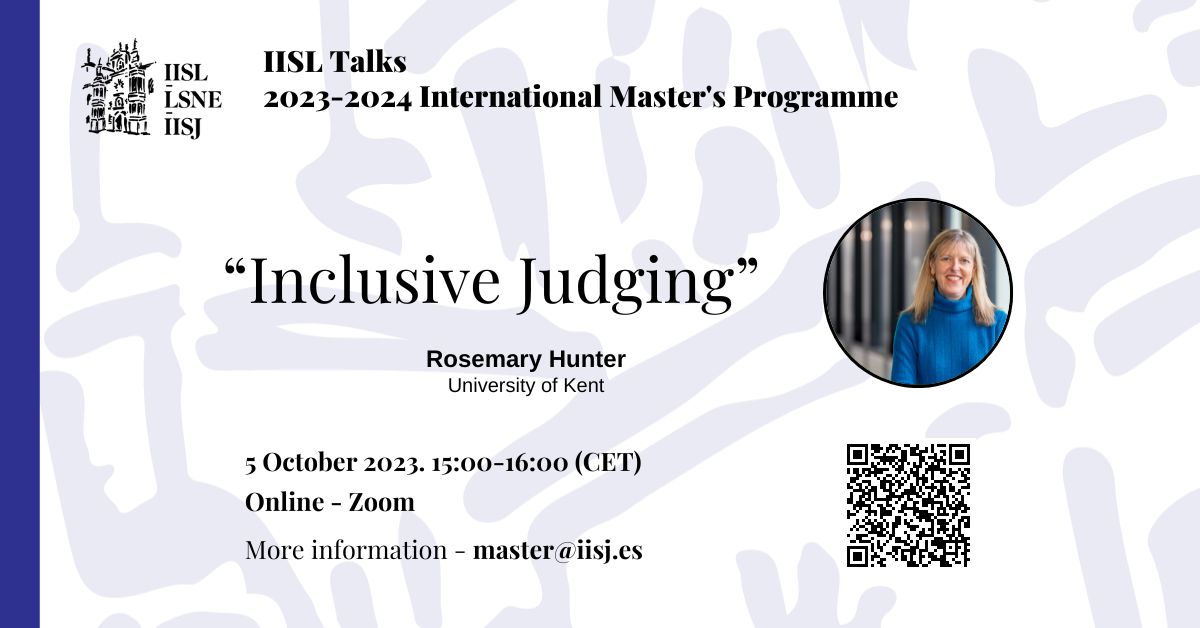 Prof. Rosemary Hunter (University of Kent) will give an open talk about "Inclusive Judging". To enroll, please fill in this form: https://www.iisj.net/en/talks/master-programme-talks/inclusivejudgingtalkregistration-form
'Inclusive Judging'
In this talk I will discuss a variety of 'alternative' approaches to judging which aim to be more inclusive of previously marginalised subjects, communities and experiences than traditional judging. 'Inclusive' judging is understood to refer not merely to opportunities for participation in legal proceedings, but a conscious effort to include the interests and experiences of those previously marginalised in the design of procedures, the assessment of evidence, the interpretation of facts, the formulation, interpretation and application of law, and in decision-making. These approaches range from techniques of inclusive judging in mainstream court process, to real and imagined examples of alternative justice process. I will finally consider the future of inclusive judging and the kinds of inclusivity most likely to have a wider impact.
Bio for introduction
Rosemary Hunter is Professor of Law and Socio-Legal Studies and Head of the Law School at the University of Kent. She is a well-known feminist socio-legal scholar, and her current research focuses specifically on the areas of family justice and judging and the judiciary. She is one of the founders of the 'feminist judgments projects', which involve rewriting judicial decisions from a feminist perspective. A number of projects have been conducted in common law countries and regional and international jurisdictions across the world, and new projects in several civil law countries and regions are under way. Rosemary has also been chair of the RCSL Working Group on Gender and Law, and a member of the governing board of the Onati Institute.