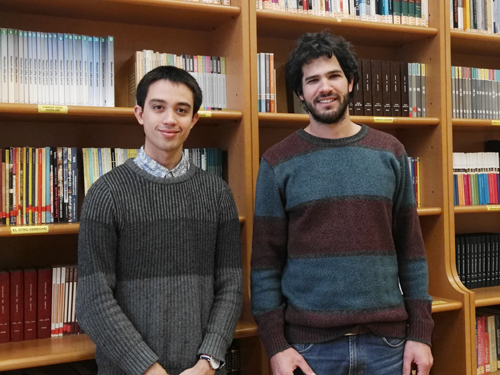 Dos han sido los proyectos que se van a repartir ex aequo la beca Oñati Udala Grant 2017
Una comisión formada por representantes del ayuntamiento de Oñati, con su alcalde Mikel Biain a la cabeza, y la dirección del IISJ, ha decidido por unanimidad conceder la beca Oñati Udala Grant 2017, dotada con 4000 €, a dos proyectos: "La intervención estatal en la producción social del espacio urbano. Los alcances y las potencialidades de la regulación urbana en Oñati (2007-2016)", que va a desarrollar Francisco Vértiz, y "Towards understanding Basque identity. Perceptions on Pakistani inmigration, citizenship and culture in Gipuzkoa, the Basque Country (Hacia el entendimiento de la identidad vasca: percepciones sobre la inmigración, la ciudadanía y la cultura paquistaní en Guipuzkoa, Euskadi)", propuesta de Patara McKeen.
Vertiz, de origen argentino, llegó a Oñati de la mano de una de las becas de residencia que concede el Instituto. Va a analizar el potencial de ciertos mecanismos de regulación urbana implementados por el ayuntamiento de Oñati en el período 2007-2016. Pretende incluir la cuestión de la vivienda dentro del fenómeno de los problemas de urbanización de las sociedades contemporáneas. Para ello identificará las normativas urbanas que regulan el fraccionamiento y uso del suelo y la densidad constructiva del espacio urbano. También estudiará los principales instrumentos de regulación del mercado inmobiliario implementados por el gobierno local y sus efectos sobre la dinámica de los precios de los inmuebles urbanos durante ese periodo.
McKeen, procedente de Canadá, es uno de los estudiantes del Master del curso 2016-2017. Va investigar la complejidad de la identidad vasca mediante el examen de la inmigración, la ciudadanía y la cultura paquistaní en Gipuzkoa. Su objetivo es analizar las condiciones culturales de la provincia, investigando la percepción del "reconocimiento de los derechos", permitiendo una comprensión "incluyente" o "excluyente" de la identidad vasca. Para abordar su investigación, tomando Oñati como punto de partida, realizará entrevistas a miembros de la comunidad, analizará datos estadísticos e implicará a académicos expertos en la materia.
Beca Oñati Udala
El ayuntamiento de Oñati ofrece cada año una beca de investigación dotada con 4000 €, destinada a financiar proyectos que hagan una aportación al pueblo de Oñati.