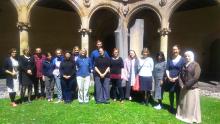 Coordinators: Iris Sportel (Radboud University Nijmegen)
Programme:

190524_final_programme.pdf
Description of the meeting
In the last decennia, European families have become increasingly diverse. In the past years, this diversity has posed challenges to policymakers, courts, and state institutions. Increasing migration streams of refugees to Europe have led to a new urgency in discussions over state policies concerning minority families. Especially the identity of minority children can raise controversies in interacting with state institutions and law. The religious, cultural, or ethnic identity of children can play a role in a wide range of contexts, including education; parenting services; child welfare and protection systems; migration and naturalisation services; as well as in the courts. Ethnicity, religion, and culture can be strong markers of belonging to the nation.
This workshop aims to investigate the interactions of minority families with law and state institutions from a socio-legal perspective, with a particular focus on issues relating to children. Thus far, minority families' interactions with law and state institutions have mostly been studied in different academic fields, which hardly ever meet. For example, while there is a strong body of literature on child protective services dealing with minority children, mostly from within the field of social work, this literature tends to almost exclusively focus on structural inequalities in the outcomes of decision-making. Consequently, this field is largely disconnected from studies of courts and state institutions dealing with claims made by migrant and religious minorities. Conversely, literature focusing on how states deal with -or should deal with- foreign legal concepts and culture-based legal claims tends to pay only limited attention to the possible role of inequalities in decision-making. Similarly, studies on minority language or religious education, on migrant parents' interactions with parenting services in big cities, on Roma children, or transnational families, all take place in different disciplines. This workshop aims to overcome such disciplinary limitations by inviting participants from different disciplinary and national backgrounds, including several fields of law; migration and diaspora studies; transnational families; sociology; education; anthropology; psychosocial studies; and gender and ethnicity studies.
Furthermore, the workshop aims to take an intersectional approach, drawing on case studies from different types of minorities, including migrant and post-colonial but also native minorities, from a range of different countries, which will give further insights in intersections of ethnicity, culture, nationality, and religion. Papers will discuss Hindu, Muslim, Jewish, orthodox Christian, Roma, Filipino, South Asian, all kinds of migrant and refugee as well as mixed families. Contributions deal with research settings in Europe (UK, France, Belgium, the Netherlands, Denmark, Finland, Norway) as well as Northern Africa and the Middle East. It intends to closely examine intersections of religion, ethnicity, and culture to better understand variations in the positioning of various minorities vis-à-vis state actors. Do different minorities have different legal issues? How does the positioning of minorities in different European countries influence their experiences with law and state institutions? How does ethnic background or migration/residence status impact on family members' possibilities to make religious or cultural claims? How do multiple interactions with state institutions shape minority family life?
The workshop will consist of several panels organised around different aspects of minority family interactions with the state. The first two panels, family members and state institutions I & II, will take a bottom-up approach, exploring the everyday experiences of minority families with state institutions. The first part will have a particular focus on families dealing with local institutions in large cities like Paris, London or Amsterdam, while the second part will deal with families' interactions with law and bureaucracy. The third panel, moving children: international adoption and "child abduction" , deals with parenting and children's belonging across national borders. The fourth panel, minority families and child welfare and protection systems centres on the role of religion, ethnicity, and culture in issues related to child protection and child welfare systems. The fifth panel, divorce and family conflict, will deal with interactions with courts in the context of legal disputes within minority families on issues such as child custody after divorce. In the sixth panel, living together? Migration, asylum, and residence, the interactions of minority families with migration law and authorities will be central. In the closing session, there will be a plenary discussion on the results of the workshop: What did this workshop bring? What are the most important new insights? How to proceed with publication?
Our experience in Oñati
The workshop Minority families and the law. Interactions of ethnic, religious, and cultural minorities with law and state institutions took place on May 30-31, 2019. The seventeen participants in the workshop came from a wide range of fields as well national backgrounds, which led to lively and stimulating discussions. We discussed minority families' interactions with law and state institutions from different perspectives: the perspectives of state actors and courts; of mediators and welfare professionals; as well as of minority families and youth themselves. Papers included research on a range of interactions between minority families and state institutions, including welfare issues, education, immigration and family reunification, and family conflicts within and across borders, with a particular focus on children and youth. Furthermore, the papers drew from case studies from a wide variety of contexts and minorities, including refugee and migrant minorities in Europe, but also native religious or ethnic minorities in Europe and the Middle East. These different perspectives and contexts allowed for interesting comparisons. By bringing together people from different fields, the workshop has laid the foundations for future interdisciplinary collaborations. The workshop greatly benefitted from the atmosphere at the IISL and we would like to thank the Institute for the great hospitality and excellent organisation.