Toribio, Mireya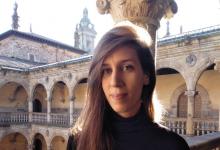 University of Birmingham
21 Jan 2023
to
22 Apr 2023
Biografía:
Mireya Toribio Medina is a doctoral researcher at the University of Birmingham (United Kingdom) within the European Research Council research project 'Urban Terrorism in Europe (2004-2019):
Remembering, Imagining, and Anticipating Violence'. Her research interests lie in the impact that political violence has at the political, social and cultural levels. Her research project analyses the narratives surrounding the use of the label "terrorism" in contemporary Spain and, particularly, in the Basque context.
She is a lawyer specialising in criminal law and human rights and, in the past, has also carried out research assistantship within two major projects at Oxford University in areas of expertise related to violence and its social impact: obstetric violence and terrorism.
Mireya holds an M.A. in Criminal Justice (Universidad Carlos III de Madrid) and an LL.M. in Legal Practice (Universidad Rey Juan Carlos). She is a member of the steering committee of the Institute for German and European Studies Doctoral Forum and a member of the Howard League for Penal Reform and the Socio-Legal Studies Association.
Ámbitos de especialidad: Criminal Law, Criminal Justice, Terrorism, Discourse Analysis