Lucena Cid, Isabel V.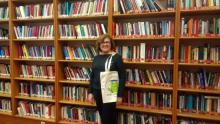 Universidad Pablo de Olavide
08 Oct 2017
to
13 Oct 2017
Experience in Oñati:
Years ago I did an investigation on John Searle's theory of institutional facts and his ontology of social reality, based on the functions of status and constitutive rules. After it, I studied his political ontology based on collective internationality. During my stay in the IISL I have investigated the shortcomings of this theory and its difficulty to explain a social and institutional reality that takes place in virtual spaces. The main question that I have raised is: what is the ontological status of virtual objects? Although my stay in the IISL has been brief, it has helped me to rethink and restructure the research in the light of some readings and enjoy the magnificent space to work offered by the Institute.
My brief stay at the IISL has been exceptionally pleasant and fruitful. I have to emphasize, specifically, the human quality and the hospitality of ILSL staff, providing me with all kinds of information and means so that my visit to the Institute has been a real pleasure. I believe that by its means and its environment it is a paradise to develop an investigation and, although I have not had the occasion, this time, it is a good place to keep a wide and interestings debates on importants subjects as for meeting people from different parts of the world.