Johannesson, Livia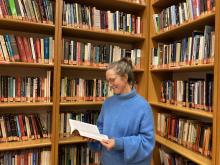 Stockholm University
23 Oct 2022
to
16 Nov 2022
Biografía:
Livia Johannesson is a political scientist at the interdisciplinary research institute The Stockholm Centre for Organizational Research (Score), Stockholm University. Currently, she holds a full-time position as researcher and PI for two different research projects. Johannesson is specialized in asylum determination research, legal ethnographies and interpretive analysis. She received her PhD in 2017 on a dissertation about the judicialization of the Swedish asylum system and has a background in in public policy-making, most recently blame management as political phenomenon. In a current four-years research project, Johannesson studies the role of the administrative courts in the Swedish democratic system by conducting an ethnographic study of how equality before the law is practiced in asylum appeals compared to other administrative court procedures, in particular compulsory care cases.
Area(s) of expertise: Refugee Status Determinations, migration policies, Qualitative methods, Judicialization of politics, Blame management
Experience in Oñati:
Relaxing, focused, friendly, and with a lot of time to read, think, and write.
The masters students as well as the other scholars were very friendly!