Jardon, Gabriela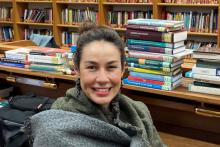 University of Coimbra
04 Dec 2022
to
16 Dec 2022
Biografía:
My name is Gabriela Jardon. I am a brazilian woman with 47 years old. I've been a judge in Brasília, my hometown, since 2005.
Since 2017, I'm the main judge in a civil chamber, but have already dealed with all kind of justice issues, as crimes, family law, administrative law, human rights, among others.
I have a LLM in International Human Rights Law from University of Essex, in the UK (2002). I have a master degree in Human Rights and Citizenship from University of Brasília (UnB, 2021) and, currently, I am doing a PhB in Sociology of the Law, the State and Justice in Coimbra, University of Coimbra.
Area(s) of expertise: Courts, Human Rights, Judges, Acess to Justice