Hyndman, Jennifer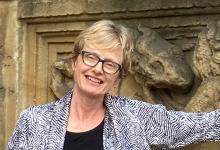 York University
10 Mar 2023
to
17 Mar 2023
Biografía:
Jennifer Hyndman is Professor in Environmental and Urban Change and currently serves as Associate Vice-President of Research at York University in Toronto, Canada. Her research focuses on
1) conflict, human displacement, and the geopolitics of humanitarian and refugee protection, particularly in East Africa and Sri Lanka;
2) refugee settlement, participation and social inclusion in Canada. Current research projects probe the social relations and science related to private refugee sponsorship and how it is sustained into a 5th decade in Canadian communities.
www.yorku.ca/jhyndman
Area(s) of expertise: conflict, violent nationalisms, migration,refugees, geopolitics of resettlement
Experience in Oñati:
My visit to IISL has been remarkable. It will take me some weeks to fully appreciate all the dimensions of this creative space: the lively graduate students and visiting scholars from all over the world, the amazing walks and beauty of Onati to crystallize an argument or get out of my head, and the calm and well-resourced facilities in which to work. The chemistry of all these pieces together has made my stay incredibly memorable. Thanks to each and every staff who made this opportunity possible and for the warm welcome.