Fanega Guijarro, Manuel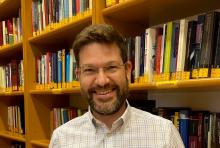 Universidad de Loyola
29 Jun 2022
to
29 Jul 2022
Biografía:
Dr. Manuel Fanega is an Assistant Professor of Criminology at Loyola University (Spain).
Formerly Associate Professor of Penology and Prison Law at Open University of Catalonia. Formerly President of the Andalusian Criminologists Practitioners Association. Member of the Criminal Law-Making Policy (European Society of Criminology) Working Group, and a member of the Spanish Society of Criminological Research.
Holds a B.A in Criminology and Security, an LL.M in Human Rights, Democracy and Globalisation and a Ph.D in Social Sciences and Law (Criminology).
Topics: Penology, Prisons, Governance, Social Control, Institutions, Critical criminology, Social Harm