Astone, Daniel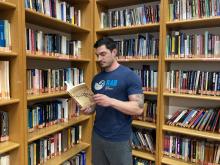 Stockholm University
16 Jun 2023
to
25 Jul 2023
Biografía:
I am a PhD candidate in International Law at Stockholm University and a Junior Fellow at the Stockholm Centre for International Law and Justice, where I am working on an article-based dissertation under the tentative title "Living as a commodity: property rights, systems theory and the trade on human lives". I have been working, either as an academic or public servant, in the fields of law, economics, development and innovation for the past 14 years.
Area(s) of expertise: law and economics; systems theory; intellectual property
Experience in Oñati:
My time at the IISL provided me with ample mental clarity to resolve critical issues I encountered during the final stages of my doctoral studies, both within the library and beyond. Oñati is a tranquil yet vibrant place, striking the perfect equilibrium between dedicated work and enjoyable interactions with the remarkable individuals at the Institute. Engaging in discussions with Prof Sabine, the Scientific Director, and other visiting scholars was truly enlightening and motivating. Without a doubt, I intend to return in the near future. Thank you for this fantastic experience.