Štajnpihler Božič, Tilen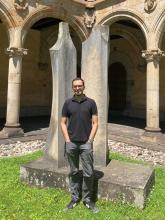 University of Ljubljana
17 Apr 2023
to
17 Jul 2023
Biografía:
I am an assistant professor at the Faculty of Law, the University of Ljubljana, and currently the head of the Department for Legal Theory and Sociology of Law. I am the principal lecturer for Sociology of Law and Anti-discrimination Law, and I am also involved in teaching other courses, such as, Theory of the State.
In addition, I am the founder and co-ordinator of the faculty's Anti-Discrimination Legal Clinic. Most of my research work is affiliated with the University of Ljubljana as I am currently involved in several research projects at the Faculty of Law, as well as the Institute of Criminology and the Institute for Comparative Law, both at the Faculty of Law in Ljubljana.
After completing my PhD in Legal Theory on the concept of judicial precedent, the focus of my work shifted towards a more sociologically driven approach to legal research. My recent research efforts could best be characterised as attempts at a sociological interpretation of law, particularly in connection with different issues of social (in)equality. More specifically, my current research interests include, inter alia, law in social theory (e.g. the application of Bourdieu's sociological theory to the legal domain), equality and discrimination (e.g. the problem of discrimination in disaster triage protocols), gender and the law (e.g. gender equality in the context of legal education), legal education (e.g. understanding the power relations in legal academia). I have also continued to pursue research on different aspects of the judicial system, particularly concerning judicial decision-making and legal argumentation (e.g. the system of precedent and judicial legitimacy; the appeal to tradition in legal discourse).
In addition to teaching and research, I am actively involved in professional activities outside the academic context. I was a legal expert within FRANET (the multidisciplinary research network of the European Union Agency for Fundamental Rights), I served as an alternate member of the Experts' Forum of the European Institute for Gender Equality and a member of the National Expert Council for Gender Equality of the Republic of Slovenia.
Area(s) of expertise: sociology of law, non-discrimination, gender equality, judicial decision-making, legal argumentation