35. Criminology and Archaeology. Studies in Looted Antiquities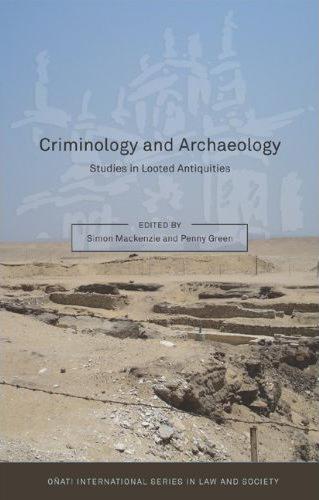 pdf files:

Table of contents
Editors: Simon Mackenzie, Penny Green
2009 , 194 p. , ISBN: 9781841139913 (Hb) ; 9781841139920 (Pb) ; 9781847315465 (pdf)
This collection is the product of a collaborative venture between criminologists and archaeologists concerned with the international market in illicit antiquities. It examines the state of regulation in the antiquities market, with a particular focus on the UK's position, but also with reference to the international context.
Looting happens routinely and many countries have rich deposits of cultural material. Antiquities are highly collectable, and there are several prominent international centres for trade. As well as the legitimate face of the antiquities trade there therefore exists an international illicit market in which cultural objects are trafficked for profit in breach of national laws and international conventions.
It is within such a complex international and local regulatory context that the essays presented here emerge, focusing upon three areas in particular: the demand for looted antiquities; the supply of cultural artefacts which originate in source countries; and regulation of the international market in antiquities.
Criminology has long been interested in transnational crime and its regulation. Archaeologists' concerns lie in the destructive consequences of antiquities looting, which erases our knowledge of the past. In the papers presented here both disciplines present new data and analysis to forge a more coherent understanding of the nature and failings of the regulatory framework currently in place to combat the criminal market in antiquities.
For more information:
Leire Kortabarria
IISJ (Publicaciones)
Avenida de la Universidad, 8
Apartado 28
20560 Oñati (Gipuzkoa) - Spain
T: +34 943 78... Ver teléfono
E: publications@iisj.es

@IISJOnati