The first issue of the year of Oñati Socio-Legal Series, the IISL's indexed socio-legal journal, is out. Issue 1 is entitled Climate Justice in the Anthropocene and has been edited by Sam Adelman (Warwick University) and Louis Kotzé (North-West University/University of Lincoln), who chaired a workshop on this topic in 2019. The editors write: "The articles address specific issues such as corporate responsibility, the plight of farmers in India, climate displacement, and gender justice. In doing so, they reveal common themes such as the limitations and failings of business as usual and law as usual, the centrality of human rights and vulnerability theory in the pursuit of climate justice, the indivisibility of justice, and alternatives ways of achieving it".
Contributors to the issue come from universities in the UK, South Africa, the United States, Spain, the Netherlands, and Canada. See the Table of Contents: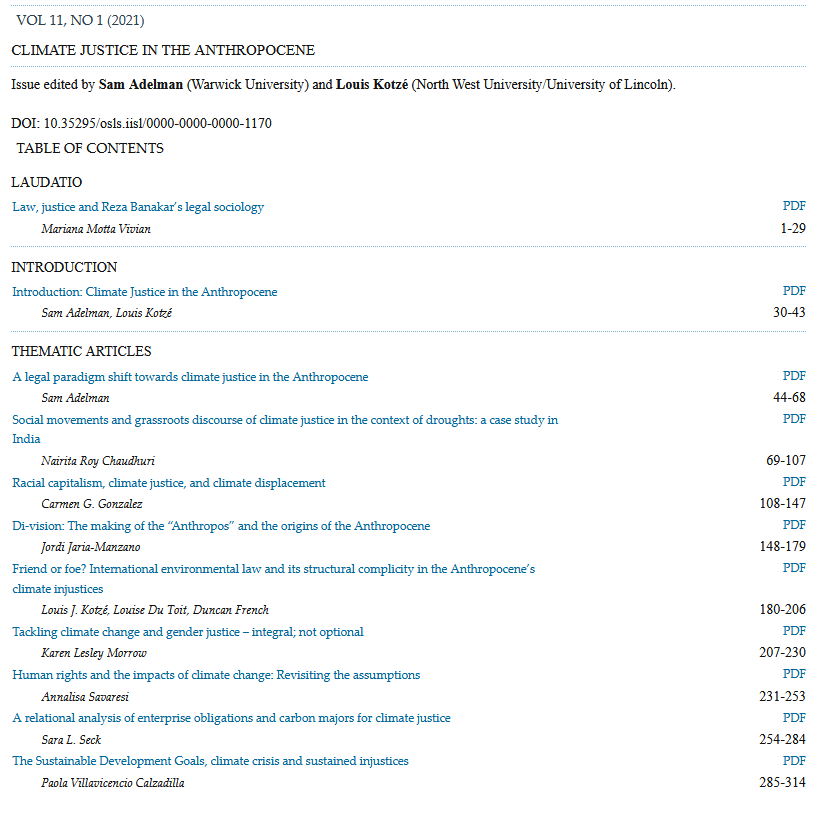 To read, download and share the contents, please click here: https://doi.org/10.35295/osls.iisl/0000-0000-0000-1170
The issue opens with an editorial note: a eulogy to late Prof. Reza Banakar, a lifelong friend of the Institute. The piece has been contributed by the IISL Master's graduate Mariana Motta Vivian.