Zanier, Maria Letizia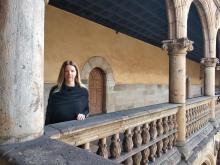 University of Macerata
15 Feb 2019
to
17 Mar 2019
Experience in Oñati:

I carried out researches about topics concerning criminal law, disnetion in prosecuting in the italian penal system, even following a comparative perspective. I'm planning to publish a book in English about Italian Prosecutors based on empirical research according the law in action analytical perspective.
My stay at the IISL was very profiteble and the many resources of the library helped me a lot carrying on my research.
Residence Antia offers a magnificent accomodation. Many thanks!