Thiemann, André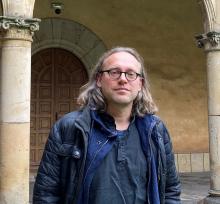 Riga Stradins University
17 Oct 2021
to
13 Nov 2021
Biografía:
André received his PhD in Anthropology from Martin Luther University Halle/Germany in 2016, and currently works as postdoc/ visiting lead researcher at Riga Stradins University, Latvia. His research addresses central questions of the anthropology of the state at the intersection of political economy and care. Ethnographically examining state relations in the global countryside, he sees the state not as bounded, but as a grounded, concrete, and complex intersection of relations of care, and the infrastructures necessary to provide it.
Infrastructure signifies material promises, hopes for the future, and the (dis)trust people have in the state and the market economy. Care embodies the dialectics of inclusion and exclusion, belonging, and shifting solidarities.
Area(s) of expertise: anthropology of the state, social policy, welfare and care; multispecies relations, anthropology of food.