Rzepinski, Wojciech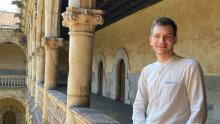 Adam Mickiewicz University
02 Jul 2021
to
23 Jul 2021
Biografía:
I am a Ph.D. candidate in the Department of Legal Theory and Philosophy at Adam Mickiewicz University in Poznań (Poland), where I completed also my master's degree in law (2018).
My master's thesis in law, entitled "The problem of the linguistic meaning of the legal norm in Polish jurisprudence", was a discussion regarding the legal norms semantics.
I also co-founded the Zygmunt Ziembiński Law Theory and Philosophy Student's Association at my Alma Mater and from 2015 to 2018 I served as the President of the Association. From 2020, I am a Principal Investigator in the Polish National Science Centre's (Narodowe Centrum Nauki) grant PRELUDIUM 17 entitled "The inferentialist account of legal fact-finding in legal decision-making process" (2019/33/N/HS5/01418).
Area(s) of expertise: legal theory, legal philosophy, analytic pragmatism, evidence