Ramos Quintana, Margarita Isabel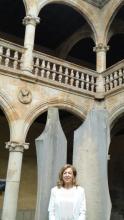 Universidad de La Laguna
24 Apr 2017
to
25 May 2017
Experience in Oñati:
I have concluded a study on violence at work, including the psychosocial risks in my recent research accomplished at the IISL in Oñati.
The psychosocial factors that cause stress at work and other risks, as burn-out, bullying, harassment, etc., have been carefully analized.
The organizational dimension of the company has an evident influence on the psychosicial risks.
In order to protect the employees against the psichosical risks it is convenient to face the need to make organizational changes in the company.
To conclude this research, it has been very useful the consultation of books in the splendid Library of the Institute.
My stay at the Institute has been very satisfactory: Personalized attention, schedule availability, comfort on the premises, quiet space to work, etc.
At the Antia Residence, the stay has been very pleasant too, sharing the experience of living with other visiting scholars and students.
I am grateful to the staff of the Institute for their kindness and, finally, I would like to thank to the Scientific Director, Vincenzo Ferrari, for his generosity and permanent kindness making my stay in Oñati very pleasant.