Librandi, Juan Martín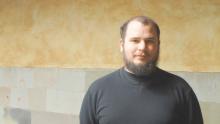 Universidad de Buenos Aires
01 May 2017
to
31 May 2017
Experience in Oñati:
Durante mi estancia en el IISL he desarrollado tareas vinculadas a mis diversas areas de trabajo. Gracias a la biblioteca avancé significativamente en el trabajo para mi tesis doctoral vinculado a la utilización de estadisticas como lenguaje en el campo sociosanitario, y en particular en las politicas publicas. Adicionalmente desarrollé otras actividades pendientes relativas a la redacción de presentaciones a congresos y articulos para ser presentados en revistas, como avanzar en distintos proyectos de investigación.
Finalmente he participado del workshop "When the Exception becomes the rule: European Union Societies on the move" desarrollado el 4 y 5 de mayo. El mismo me resulto provechoso para actualizar contenidos de teoria politica de suma relevancia y actualidad vinculados con las politicas públicas, el trato de población vulnerables de parte de los distintos Estados y el estado del arte respecto del estado de excepción, sin duda un concepto clave para entender el desarrollo de los acontecimientos actuales.
Solo agradecer el trato sumamente calido, profesional y atento que nos han brindando.