Daza Rojas, Julie Marcela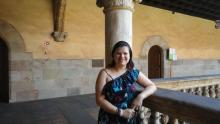 Universidad Nacional de Colombia
01 Jun 2017
to
09 Jun 2017
Experience in Oñati:
My interest is to investigate criminal procedural law seen especially from sociology, because my PhD thesis dealt with criminal proceedings in crimes against freedom and sexual training when the victim is a child under 14 years.
Especially the procedure, taking into account that there are special rules for the process when the victim is a child, therefore an understanding of this type of processes will allow to see how the rules are appropriated by all those involved and will allow to evaluate the Sub rules, interpretations and speeches that are built in legal practice.
I am very grateful to be received in the institute, since it has the best reputation in the area of ​​legal sociology, its human talent, facilities and bibliographic resources are excellent. In my country, the institute is highly valued for its quality.