Blázquez Ruiz, Francisco Javier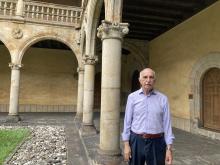 Universidad Pública de Navarra
06 Jul 2023
to
21 Jul 2023
Biografía:
Catedrático de Filosofía del Derecho Universidad Pública de Navarra
Ámbitos de especialidad: derechos Humanos, nacional socialismo, bioderecho, Inteligencia artificial
Experience in Oñati:
I work in the library with all facilities.
Ainhoa and Rakel help me all the time.
I come back to the Public University of Navarra very happy.
I have written two papers and am starting to develop the third.
Thank very much.