Abbasova, Ellada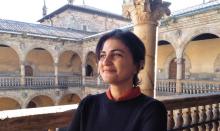 Baku State University
20 Sep 2021
to
21 Dec 2021
Biografía:
I have obtained an LLB from Baku State University and an LLM from Leiden University on Advanced Studies in Public International Law. As detailed in my resume, starting from my experience at national, and international NGOs, to working for the Ombudsman Institute and International Organizations, my professional background is well-founded. Until recently, I was working at the International Organization for Migration (IOM) as a senior project associate where I led the International Migration Law Unit, coordinated border management and counter-trafficking projects.
Among other experiences and duties, legal research, monitoring, drafting country reports were parts of the activities under the projects of national and international organizations, such as the Council of Europe, International Commission of Jurists. I have also been involved in drafting ECtHR applications within the projects of local and international NGOs.
As a Visiting Professional at the International Criminal Court, my main duty in this project was to conduct an in-depth legal analysis of the Court's judgments, decisions and orders.
Throughout these years, I have always been in social projects, "Free Thought University" was being the unique one offering an alternative academic platform for young people.
During the last three years until now, I have joined academia as an adjunct lecturer to teach on separate subjects of public international law at the Baku State University in the law department.
Area(s) of expertise: Human rights/Migration/Rule of law/ICL