Oñati-IISL eNewsletter - eBoletín del IISJ-Oñati
No. 55 - 07 / 2018
Sign in for our Newsletter if you do not receive it directly from the Institute [+form]
Farewell letter from Vincenzo Ferrari
The time has come for me to leave the scientific directorship of the Oñati Institute, on August 31, next.
Two years elapse in the blink of an eye and it is not easy to have a clear perception of the outcomes of the work one performs in such short time. It will be the task of my successor, prof. Noé Cornago, and the incoming Board of Directors, to evaluate it.
[Read more]
We have renewed our Privacy Policy
The Institute has renewed its Privacy Policy in order to comply with the GDPR – General Data Protection Regulation.
From 25 May onwards, every person who gets involved in activities arranged by the Institute will be requested to authorise us to collect some personal data such as their full name and a contact address, and they will also be offered the chance to subscribe to our newsletter and other mailings related to our activities. If anybody you know is interested in hearing from us, and would like to subscribe to our mailing service, he/she can fill in our online form here.
You may read our new Privacy Policy here.
If you have any doubts or questions regarding the treatment of your personal data or if you want to execute your rights, please contact legal@iisj.es.
Thank you to all who have renewed your trust and commitment with us!
International Master's in the Sociology of Law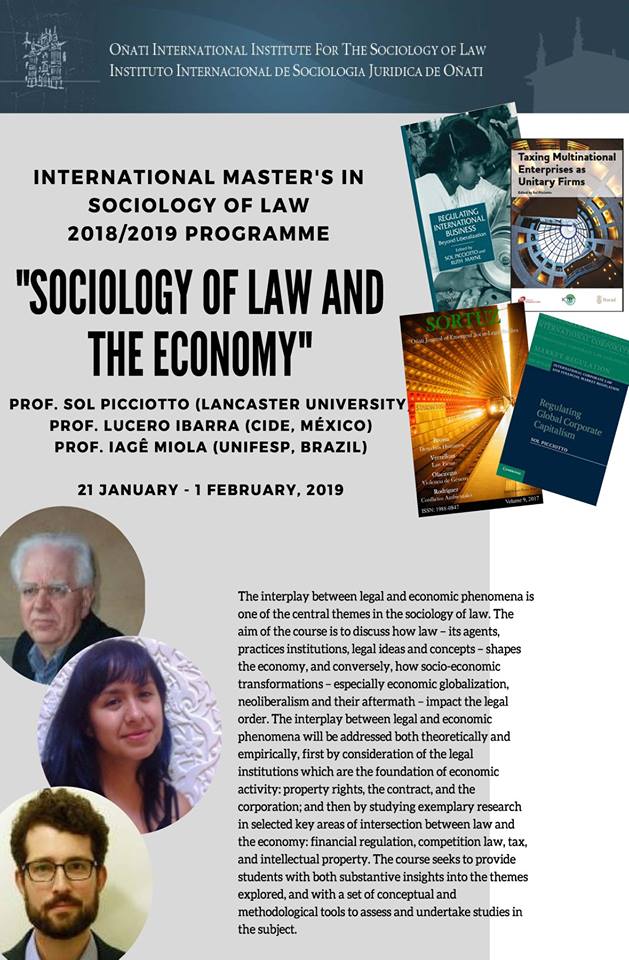 2018-2019 - 29th Master Programme
[Courses & teachers] [Leaflet] [Poster] [Application form]
Remember you can also attend single courses of the programme.
Further information: susana@iisj.es
Donations are used to support our
student grants [+]
, and are always very welcome.
Donate via Paypal or other options through our web page [
+info
]
'Identitateak eta euskal zuzenbideak' /
'Enquiries into Basque identitites and laws'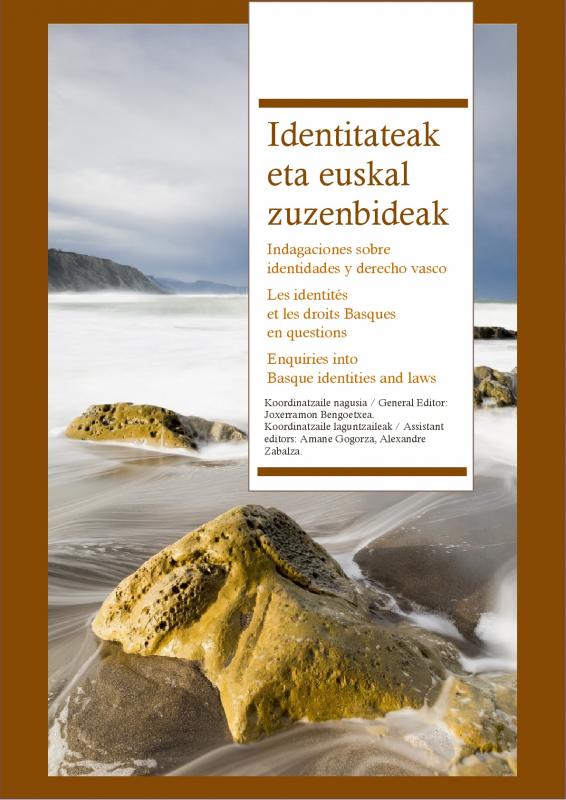 The Institute has published the e-book Identitateak eta euskal zuzenbideak. Indagaciones sobre identidades y derecho vasco.
Les identités et les droits Basques en questions. Enquiries into Basque identities and laws. It has been edited by Joxerramon Bengoetxea (EHU/UPV), assisted by Amane Gogorza (University of Toulouse) and Alexandre Zabalza (University of Bordeaux). It is a compilation of essays by 14 authors, most of which have edited and updated their work for the occasion. The essays have been published in the language they were originally written: Basque, Spanish, French, or English, as the editors "truly" believe in the "coexistence of identities and languages".
The ebook is a result of the collaboration between the Institut de Sciences Criminelles et de la Justice (University of Bordeaux), ehuGune (University of the Basque Country), and the IISL. It has been published under a Creative Commons BY-NC-ND license and is available for download on the IISL website.
Vol. 8. n. 2 - Critical Prison Studies, Carceral Ethnography, and Human Rights: From Lived Experience to Global Action
March-June 2018. - Issue edited by Sarah Turnbull (Birkbeck, University of London, UK), Joane Martel (Université Laval, Québec City, Canada), Debra Parkes (University of British Columbia, Vancouver, Canada) and Dawn Moore (Carleton University, Ottawa, Canada).
Sarah Turnbull, Joane Martel, Debra Parkes and Dawn Moore: Introduction: Critical Prison Studies, Carceral Ethnography, and Human Rights: From Lived Experience to Global Action [+PDF]
Laura Piacentini, Elena Katz: The Virtual Reality of Imprisonment: The Impact of Social Media on Prisoner Agency and Prison Structure in Russian prisons [+PDF]
Luigi Gariglio: Doing (Prison) Research Differently: Reflections on Autoethnography and 'Emotional Recall' [+PDF]
Gillian Balfour, Joane Martel: Critical Prison Research and University Research Ethics Boards: Homogenization of Inquiry and Policing of Carceral Knowledge [+PDF]
Keramet Reiter: The International Persistence and Resilience of Solitary Confinement [+PDF]
Bree Carlton, Emma K. Russell: 'We Will Be Written Out of History': Feminist Challenges to Carceral Violence and the Activist Archive [+PDF]
Sortuz. Oñati Journal of Emergent Socio-Legal Studies holds a permanent call for papers. [+info]
La revista Sortuz. Oñati Journal of Emergent Socio-Legal Studies mantiene abierta durante todo el año la convocatoria de artículos. [+info]
Thank you to all the donors who sent us their publications from February to June:
Annamaria Rufino, Antonio Carlos Wolkmer, Caio Santiago Fernandes Santos, Cecilia Hopp, Chiara Scivoletto, Eduardo Díaz Velazquez, Iñaki Ansoategui Fernández de Arroyabide, Jacek Kurczewski, Jernej Letnar Cernic, Johannes Feest, Juan S. Pegoraro, Letizia Mancini, Lorenzo Chieffi, Lorenzo Scillitani, Lynn Mather, Paolo Iagulli, Pedro Caeiro, Roberto Morales, Ruth Mestre i Mestre, Simonetta Balboni Ghezzi, Stephan Parmentier, Verena Zoppei, Vincenzo Ferrari.
[+Access the library catalogue] [+Visite el catálogo de la biblioteca]
Workshops
12-13 Apr: The Rule of Law, Populism and Militant Democracy in Europe
Chairs: Jernej Letnar Černič (Graduate School of Government and European Studies), Matej Avbelj (Graduate School of Government and European Studies).

"We discussed European problems of the rule of law and democracy and touched upon developments in the region such as the Polish and Hungarian crisis, constitutional and many other types of emerging populisms, the refugee crisis, the issue of Brexit, re-examined the concept of the rule of law within the EU, and dealt with my other similar topics." [+info] [+Programme]

19-20 Apr: DIGITAL FAMILY JUSTICE: The journey from ADR (Alternative Dispute Resolution) to ODR (Online Dispute Resolution)
Chairs: Mavis Maclean (University of Oxford), Bregje Dijksterhuis (Vrije Universiteit Amsterdam).

"In the hope of saving money and being more efficient governments in a number of jurisdictions have turned to using IT to encourage people to solve their family problems independently through information and advice, and if this is not possible to make the courts slimline and speedy. This workshop addressed our anxieties about the effect of a Digital Express train hurrying into digital solutions too fast. " [+info] [+Programme]

26-27 April: Regulating Lawyers through Disciplinary Systems
Chairs: Kay-Wah Chan (Macquarie University), Judith McMorrow (Boston College Law School), Sida Liu (University of Toronto).

"The participants had a shared passion to understand the range of choices in regulating lawyers through disciplinary systems, which in turn offers insights into how various legal systems construct the lawyer's role within their rule of law." [+info] [+Programme]

3-4 May: Judging, Emotion and Emotion Work
Chairs: Kathy Mack (Flinders University), Sharyn Roach Anleu (Flinders University), Terry Maroney (Vanderbilt University), Stina Bergman Blix (Uppsala University).

"The papers and presentations were thoughtful, thought-provoking, often challenging. The research presented was of exceptional quality, conceptually and empirically. The first day emphasised theoretical foundations for the study of emotion and for judging, and the development of concepts of emotion work, emotion labour, and emotion regulation." [+info] [+Programme]

6-11 May: Access to Justice - theory and practice in Europe
Chairs: Anette Storgaard, Bettina Lemann Kristiansen
(Aarhus Universitet, Denmark).

"The staff in the institute supported the Bilkura in any way like with the arrangement of transportation, accommodation, food etc., which provided us with optimal conditions for a fruitful meeting. There is an excellent atmosphere in the institute and the library, which invites to intellectual and creative thinking. The hospitality and the readiness to support was terrific."
[+info] [+Programme]

10-11 May: Practices of Memorialization & the Process of Social Reconstruction after large-scale Human Rights Abuses and Violations
Chairs: Martin J.M. Hoondert (Tilburg University), Gema Varona Martínez (Basque Institute of Criminology).

"It has been a great pleasure to codirect the workshop entitled Practices of Memorialization & the Process of Social Reconstruction after large-scale Human Rights Abuses and Violations. We had colleagues coming from The Netherlands, Belgium, the United Kingdom, Colombia and different cities of the Basque Country." [+info] [+Programme]

17-18 May: Governing the Political: Law and the Politics of Resistance
Chairs: Deborah Brock (York University), Carmela Murdocca (York University).

"Collectively, the work explored the relevance of these themes and diverse contexts for examining material conditions of existence and resistance, with the aim of making a contribution, however modest, to emancipatory politics. IISL provided a wonderful atmosphere for learning and thinking and our time there facilitated the burgeoning of new research relationships and friendships." [+info] [+Programme]

24-25 May: Historical and Comparative Macrosociology of Middle Eastern Legal Systems
Chairs: Said Arjomand (Stony Brook Institute for Global Studies), Nathan J. Brown (Institute of Middle East Studies).

"... participants (...) discussed research on Middle Eastern legal systems, seeking to integrate insights from more historical and area studies based approaches with those that are more social-scientific in approach. The workshop, led by Saïd Arjomand of Stony Brook University and Nathan Brown of George Washington University, discussed four general themes."
[+info] [+Programme]

31 May-1 Jun: Sharing and Regulating Emotions in Legal Spaces: Mediation, Restoration, and Reconciliation
Chairs: Susanne Karstedt (School of Criminology and Criminal Justice), Darío Páez (University of the Basque Country), Bernard Rimé (University of Louvain).

"Organizing an academic workshop at the International Institute for the Sociology of Law (IISJ) in Oñati was a very enjoyable and rewarding experience. The idea for the workshop took shape when both us were discussing the remarkable mismatch between the importance of the ombudsman in practice and in academic research." [+info] [+Programme]

7-8 Jun: Desigualdades complejas y formas de discriminación en sociedades plurales: un enfoque interseccional
Chairs: Dolores Morondo Taramundi, Encarnación La Spina, Cristina de la Cruz Ayuso (Pedro Arrupe Human Rights Institute, Universidad de Deusto).

"El IISJ no solo ofrece un entorno de trabajo único y excepcional sino que favorece el intercambio de conocimiento, la difusión y publicación de los resultados, la creación de redes de investigación y contraste de experiencias dentro de la comunidad científica." [+info] [+Programme]

14-15 Jun: The fourth wave of feminism: from sisterhood and social networking towards a new citizenship?
Chairs: Caterina Peroni (University of Padua), Lidka Rodak (University of Silesia).

"Women from Italy, Poland, Spain, Sweden, Russia, Brazil and India investigated intersections between the virtual world and reality to recognize national, cultural, class and religious boundaries, common conditions, problems and feelings. This aimed at positioning the current manifestations of the feminist movement, challenging not only national or international issues, but also the neo-liberal paradigm of law and citizenship."[+info][+Programme]

21-22 Jun: Disability and (Virtual) Institutions?: Interventions, Integration and Inclusion
Chairs: Linda Steele (University of Technology Sydney), Penelope Weller (University, Melbourne Australia), Claire Spivakovsky (Monash University).

"The workshop provided an opportunity to build an interdisciplinary sociolegal disability research community and the participants will be continuing to support each other's research, with plans to reconvene in coming years." [+info] [+Programme]

24-26 Jun: Grassroots Economics. Meaning, Project and Practice in the Pursuit of Livelihood
Chair: Susana Narotzky (ERC AdvGrant PI Grassroots economics [GRECO])

"We gathered 37 scholars from Europe and the Americas which included early career as well as more senior scholars and various disciplines: anthropology, sociology, geography, and economics. The workshop was extremely fruitful and everything ran smoothly thanks to the masterful organization of Malen Gordoa and the IISJ staff." [+info] [+Programme]

28-29 Jun: Adolescentes mujeres y sistemas penales: debate de experiencias entre América Latina y Europa
Chairs: Cecilia Montes (Universidad de la República-Uruguay y Universidad Autónoma de Barcelona), Encarna Bodelón (Universidad Autónoma de Barcelona), Laura López (Universidad de la República-Uruguay).

"El carácter original de la propuesta se relacionó con la posibilidad de debatir de forma conjunta las diferentes experiencias en justicia penal juvenil de los distintos contextos geográficos, así como también visibilizar las particularidades de las adolescentes mujeres en los sistemas penales."
[+info] [+Programme]

Check the full 2019 programme / Consulta el programa de 2019
A bit of Oñati in Toronto
By Tanya Monforte
"The 2018 Law & Society meeting held at the Toronto Sheraton must have been one of the largest meetings of the association. It was an extremely well organized, massive conference with enriching panels throughout. However, one can get lost in the shear numbers of panels and bodies. I found myself circulating through the various hallways, winding up and down the many levels to find the meeting rooms—searching out a new bit of research, a refreshing new twist on method. By the end, hitting maximum conference saturation I was not sure I could meet one more person or discuss one more research topic. However, there was one dinner I would not miss irrespective of my level of conference fatigue—that was the Oñati gathering."
[+]
The Oñati Sessions aim to open a new window of interaction between the IISL and the socio-legal community in general.To join the discussion on the organisation of the Oñati Session in RCSL, Law and Citizenship Beyond the States, 10-13 September, Lisbon (Portugal), click here.
Recent Visitors to the Institute / Han visitado el Instituto
You will find an unique atmosphere to research or write, with the best Library and Documentation Center [+] on Law and Society to make research.
Disfruta de un ambiente único para investigar o escribir, en la mejor Biblioteca y Centro de Documentación [+] sobre sociología jurídica para desarrollar tu investigación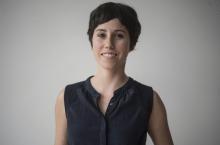 Samara Velte Moran (EHU-UPV Universidad del Pais Vasco): 15/04/2018 - 17/04/2018
The Institute, with its amazing library, offered me a great workplace, thanks to which I could concentrate during most of the theoretical work. The staff was also very helpful and provided me with direct contact addresses to the local schools, through which I could get in touch with the participants of the study. [+]
Vladimir Vitovsky (Justiça Federal): 30/04/2018 - 05/05/2018
Laura María Melián Chinea (Universidad de La Laguna): 31/03/2018 - 30/05/2018
"La biblioteca cuenta con múltiples recursos bibliográficos de calidad que me han ayudado en la elaboración de mi tesis doctoral. Además, también quiero alabar la labor del personal que trabaja en dicho instituto." [+]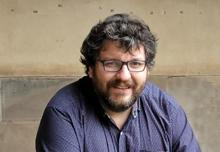 Fabien Le Bonniec (Universidad Católica de Temuco): 27/05/2018 - 01/06/2018
"La estadía en el IISL fue muy grata, permitió conocer algunos investigadores y también intercambiar con su equipo del Instituto. Desde Chile, el IISL constituye un referente importante tanto para los juristas como los investigadores de los estudios sociolegales, por lo que se espera fomentar vínculos entre nuestras universidades y el Instituto." [+]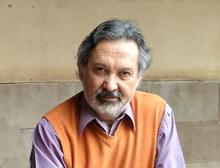 Roberto Morales Urra (Universidad Austral de Chile):
27/05/2018 - 01/06/2018
"El propósito principal fue consultar exhaustivamente el fondo bibliográfico especializado que dispone el ISSL, para diponer de antecedentes que nos permitan poner en contexto internacional la investigación, así cómo actualizar el uso de enfoques teóricos y metedológicos en el ámbito de los estudios acerca de los procesos judiciales" [+]
Letizia Mancini (University of Milan): 03/06/2018 - 06/06/2018
Lidia Malgorzata Rodak (University of Silesia, Poland): 11/06/2018 - 18/06/2018
Mario Lavezzi (University of Palermo, Italy): 11/06/2018 - 18/06/2018
Jalusa Silva de Arruda (Universidade do Estado da Bahia, Brazil): 27/06/2018 - 04/07/2018
Otto Vinicius Agra Figueiredo (Universidade Estadual de Feira de Santana, Brazil): 27/06/2018 - 04/07/2018
Jacinta Opara (Kampala International University - Uganda): 11/06/2018 - 18/06/2018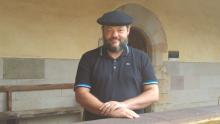 Jose Augusto Fontoura Costa (Universidade de Sao Paulo): 28/06/2018 - 19/07/2018
The IISJ is the best place to research and write that I know. The city, in the heart of Euskadi, is very cozy and its people heartly receptive. Beyond the installations of the institute and the residence (the Antia Palace), there is an environment full of inspiring and calming elements that both help to focus on work and allows a renewing daily experience: wonderful gastronomy, walks on the beautiful hills and a strong contact to the basque culture both in Oñati and close cities, such as Donostia/San Sebastián, Bilbo and Gasteiz/Vitoria. [+]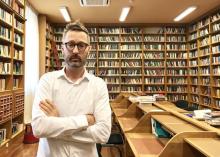 Stefan Larsson (Lund University, Sweden): 20/06/2018 - 20/07/2018
"Given the very rich socio-legal library and the inspiring milieu of the IISL, I've tried to combine notions of the law in "these books" and to apply it on the debates around AI and algorithms "in practice", to paraphrase Roscoe Pound. The insights in sociology of law that has been fostered over long time, I am certain, do have many important contributions to make in the challenges of new technologies, the digital society as I see it, including coming developments of AI and machine learning being deployed in society and everyday life." [+]