Lindroos-Hovinheimo, Susanna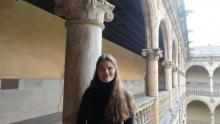 University of Helsinki
07 Nov 2016
to
19 Nov 2016
Experience in Oñati:
I did research for a presentation that I held at the Spectacular Law – Law, Literature and the Humanities Association of Australasia Conference, 8–10 December 2016 at the University of Hong Kong. The stay at IISL was very helpful for preparing the paper. The title of the presentation is Biographic law – privacy as a legal instrument for spectacular individuality and it draws on Foucault's late seminars.
The institute is a great place to work. It allows for uninterrupted concentration and the library has a good selection of books.