Lee, Emma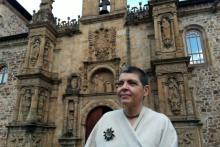 University of Tasmania
01 Dec 2016
to
14 Dec 2016
Experience in Oñati:
The IISL has been a place of intellectual respite for me. The Institute is embedded within the wider community of Oñati and therefore one is reminded every day that research requires a community of willing participants. With every meal and walk through the plaza, it becomes clear that the ISSL provides a culturally safe environment to think smartly and act respectfully within the wider context of living, applying and knowing the research. The opportunities to test models, processes, experiences and theories against comparative situations is invaluable when in the company of multiple international students.
My research is aimed at supporting the establishment of Tasmanian Aboriginal wild-catch seafood industries. This includes normalising cultural practices and traditions that have long been shunned by the wider public; guiding government policy changes to remove discrimination and shift the focus onto regional development, rather than top-down centralised agencies, to allow more Aboriginal people to participate; and engage in fisheries and extensions, such as the arts and food tourism.
The IISL has been a space to build creative writing of our aspirations for good governance in Tasmanian fisheries and seafood industries. The research library is second to none for the range and scope of literature relating to sociology, law, justice and human rights. The riches of the library are a feast for the questioning student and researcher. The insights that I gained in 2015 on my first visit to IISL were applied in Tasmania, where our peoples were able to gain Constitutional recognition within the state's Act, in October 2016, as the First Peoples of Tasmania. The removal of the discrimination barrier in non-recognition was assisted by developing a language of rights that stemmed from the IISL research stints.
The IISL is a pivot point for critical research that has global reach and ability to effect real social change. The staff are extraordinarily knowledgeable, supportive, professional and, above all, welcoming and genuine in their belief that academy is important. A home away from home, IISL now travels with me as an experience that has helped shaped human rights in Australia.