Brock, Deborah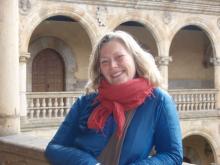 York University
10 Dec 2016
to
16 Dec 2016
Experience in Oñati:
The description of the book that I was revising, quite productively.
Re-Making Normal: Governing the Social in Neoliberal Times, edited by Deborah Brock, explores the combined forces of normalization, neoliberalism, and governmental power in a manner that is accessible to undergraduate students and to readers who are new to the the governmentality approach, while providing some enlightening case studies for those who are already familiar with this analytic perspective.Re-Making Normal offers students a lens for discovering the less obvious organization and flows of power that serve to sustain relations of social inequality. It reveals how even our efforts to do good, including securing our own well-being and the well-being of others, supporting, if not participating in the empowerment of disabled people, First Nations communities, and minoritized sexual communities, preserving the natural environment, and so on, are deeply enmeshed in relations of power. Similarly, it reveals how our insecurities and fears… about the security of borders, endless war and its attendant sacrifices, dangerous offenders and suspect community members… mobilize our participation in injustices for which we would otherwise not give our consent. Re-Making Normal engages students with an analytic approach that reveals how power harnesses our unexamined assumptions as well as our capacity for action. It connects everyday life to some of the big issues of our day, centering the political character of personal, social, cultural and economic activity.