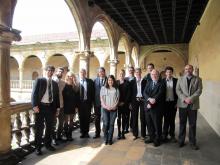 Coordinators: Manuel Cancio Meliá (Universidad Autónoma de Madrid), Mariona Llobet Anglí (Universitat Pompeu Fabra)
Programme:

Programme.pdf
Our experience in Oñati
En el marco del seminario "The Limits of Criminalization: Precursor Crimes of Terrorism. Towards an Orwellian society throughout precursor and communication offenses? A conceptual and legislative analysis", los participantes –científicos sociales y juristas de diversos países europeos y de Australia– abordaron desde diversos puntos de vista el emergente fenómeno consistente en la creación de nuevos delitos de preparación o manifestación en la periferia de las infracciones de terrorismo –que se ha producido en muchos países de Occidente–.
Así, se sometieron a análisis: los límites de los delitos de pertenencia y colaboración con una organización terrorista (en particular, la nueva modalidad de "colaboración imprudente"), los actos preparatorios individuales incriminados en recientes reformas legales (incluyendo, en algunas jurisdicciones, la mera posesión o lectura on line de textos) y, por último, diversas figuras que criminalizan actos de comunicación (como la "exaltación", la "glorificación" o el "adoctrinamiento").
Los puntos de partida de los diversos trabajos han incluido, aparte de la perspectiva jurídico-normativa eminentemente penal (abordada desde diversas legislaciones nacionales), los siguientes: el análisis empírico de la fenomenología del hate speech en internet o de la estructura organizativa de las agrupaciones terroristas, algunas consideraciones sobre las relaciones del Derecho penal internacional con los delitos de terrorismo y distintas aportaciones desde el punto de vista de la defensa letrada en estas infracciones.
El trabajo en el seminario ha enriquecido la perspectiva y conocimientos de los participantes, al haberse realizado un estudio interdisciplinar y de derecho comparado. Por todo ello, cabe esperar que las conclusiones alcanzadas se reflejen en una publicación que determine que los límites a la criminalización en el ámbito estudiado colisionan con algunas de las garantías más sagradas del Ius Puniendi característico de un Estado Democrático.