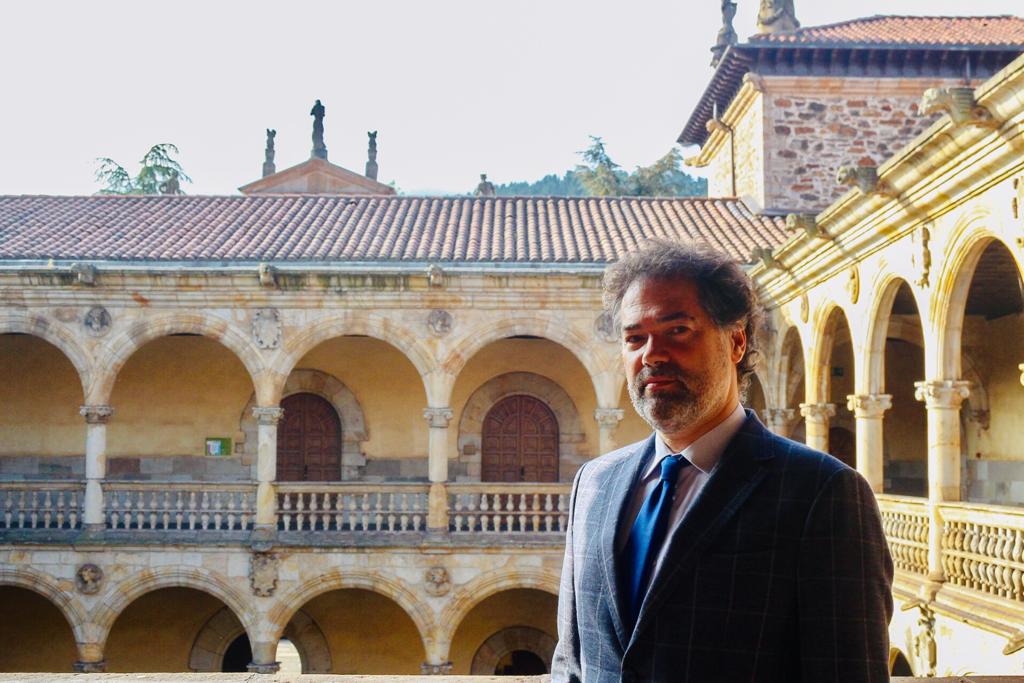 Noé Cornago. Photo by Aitor Urrestarazu.
First of all, I would like to express how grateful I am to the IISL Board for my election as the new IISL Scientific Director for the 2018-2020 term. In addition to an important responsibility, this is a very special honour, not only because of the importance of the IISL itself, but also considering the impressive group of scholars that preceded me in this position. All of them contributed during the past three decades, in distinctive and valuable modes, to build the IISL's global reputation as an institution of academic excellence. Of course, this would have been impossible without the RCSL's invaluable input and advise, the IISL's wonderful staff, and the sustained support of the Basque Government and other public institutions, such as the city of Oñati and the Provincial Council of Gipuzkoa.
The IISL is an institution that I know pretty well and with which I have a long history of collaboration. Being a faculty member of the University of the Basque Country's Department of International Law, International Relations, and History of Law, my interest in socio-legal scholarship emerged a long-time ago, for I soon realized how fruitful the cultivation of inter-disciplinary dialogue may be both in academic education and research. Since my very first visit to Oñati, more than two decades ago, I was captivated by its singularity. Its unusual blend of visiting scholars and brilliant students from all over the world creates a unique and stimulating inter-generational intellectual climate. The IISL staff's outstanding performance also deserves special appreciation and praise for its crucial contribution to the IISL's success across the years. Finally, the wonderful site of the Institute and the beautiful surroundings, and the lively city of Oñati, are for sure additional elements of its incomparable appeal.
Global transformations are giving socio-legal studies a new transnational relevance. There is an increasing demand for this distinctive expertise in a huge variety of economic political, and socio-cultural domains: social housing, gender violence, corporate regulation, privacy protection, migration, criminal law and many other critical issues. Legal pluralism is no longer a residue of the past but a dynamic and transnational reality that crosses state boundaries, formal jurisdictions and social divides, increasingly ignoring formally separated domains, and provoking social concern and contestation of norms all over the world.
The fact remains, however, that for a variety of reasons the IISL is now experiencing a transitional moment that demands from us all – the IISL and its most important partners, namely the RCSL and the Basque Government – an additional effort to innovate. The IISL is facing a number of important challenges the response to which cannot be further delayed. Some innovative measures shall be explored and, after due deliberation and the necessary support of the IISL Board and the Staff, eventually adopted, and if so, duly implemented as well. These will emerge from the specific analysis of our diverse areas of action, namely Workshops, Visiting Scholars, Master, Library, Publications, and other research-related activities. All these aspects entail both important academic and managerial issues. Our recent agreements with the UPV/EHU and the Ikerbasque Foundation are expressive of this change, but we are looking forward to many other agreements of similar importance. After all, the overall organizational soundness of the IISL for the coming years will greatly depend on our ability to combine, in a careful but innovative way, some administrative and academic innovations of critical importance. For so doing we strongly need the support of scholars and institutions from all over the world with an interest in socio-legal academia. Our doors are open to all of them. The IISL is a rare and beautiful flower that we shall take care of. More than ever we need your support.
Noé Cornago
October 2018