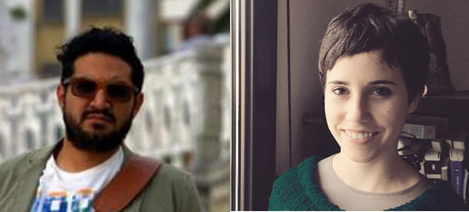 El martes que viene, 25 de septiembre, se presentarán los trabajos ganadores de la beca Oñatiko Udala Grant que se falló en febrero, y que recayó ex aequo en Leopoldo Cruz Balbuena y en Samara Velte Morán. La presentación estará abierta a todo el mundo y será en el Instituto, de 18:00 a 20:00. Asistirán representantes del Ayuntamiento de Oñati.
Éstos son los temas que se van a presentar y que han sido objeto de estudio por parte de los galardonados:
Leopoldo Cruz Balbuena (México) - Mujeres de 65: Un estudio sobre las mujeres retiradas y su contribución a la identidad, cultura, sociedad y economía de Oñati.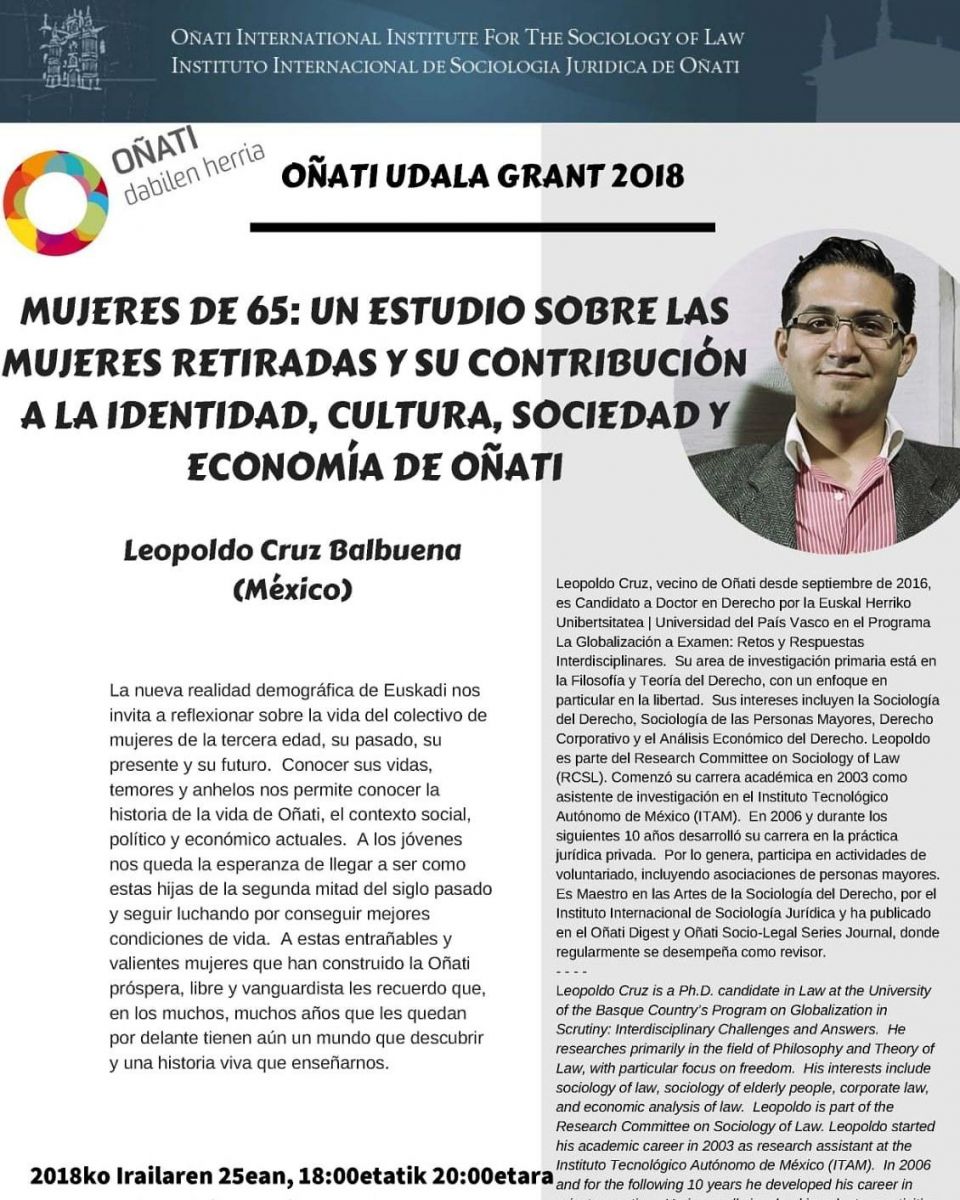 La nueva realidad demográfica de Euskadi nos invita a reflexionar sobre la vida del colectivo de mujeres de la tercera edad, su pasado, su presente y su futuro. Conocer sus vidas, temores y anhelos nos permite conocer la historia de la villa de Oñati, el contexto social, político y económico actuales. A los jóvenes nos queda la esperanza de llegar a ser estas hijas de la segunda mitad del siglo pasado y seguir luchando por conseguir mejores condiciones de vida. A estas entrañables y valientes que han construido la Oñati próspera, libre y valiente les recuerdo que, en los muchos, muchos años que les quedan por delante tienen aún un mundo que descubrir y una historia viva que enseñarnos.
Samara Velte Moran (Zarautz) - Belaunaldi berriek gatazkaren historiarekin duten harremana aztertu du ikerketa batek
Oñati's youth facing the armed conflict: analysing the discourses of the first post-conflict generation (Oñatiko gazteak gatazka armatuaren aurrean: gatazka osteko lehenbiziko belaunaldiaren diskurtsoak aztertzen) lanak hainbat gazteren diskurtsoen analisi linguistikoa egin du, iragana berreraikitzeko erabiltzen dituzten estrategia linguistikoak identifikatuz. Ondorioztatu duenez, gazteok gatazka oro har bere forma inmaterialetan bizi dute, sentimentu eta aurreiritzi forman, eta oro har segurtasun handiagoa adierazten dute eskolan jasotako diskurtsoak erreproduzitzerako garaian. Horrek hezkuntza erakundeen garrantzia nabarmendu du memoria kolektiboa eraikitzerako garaian.
Un estudio investiga la relación que la juventud de Oñati tiene con la historia del conflicto armado
La investigació
n Oñati's youth facing the armed conflict: analysing the discourses of the first post-conflict generation (La juventud de Oñati ante el conflicto armado: analizando los discursos de la primera generación post-conflicto) se basa en el análisis lingüístico de los discursos de varios jóvenes, identificando las estrategias lingüísticas empleadas para reconstruir mentalmente el pasado violento. Según concluye, estos jóvenes perciben el conflicto más bien en sus formas inmateriales como sentimentos y prejuicios, y generalmente se muestran más seguros a la hora de reproducir discursos recibidos en contextos educativos. Esto pone de relieve la importancia de las instituciones.